Regional Interstate Volunteers for the Ecosystems and Rivers of Saco (RIVERS)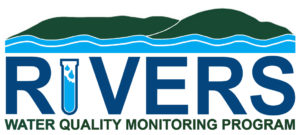 Local volunteers help monitor numerous river sites from April through October for our flagship research program – the Regional Interstate Volunteers for the Ecosystems and Rivers of Saco (RIVERS) water quality monitoring program.  A select number of additional sites are monitored monthly through the winter by GMCG staff and volunteers.  GMCG's downstream partner, the Saco River Corridor Commission (SRCC), monitors additional sites in the Saco watershed seasonally. Overall, the RIVERS program encompasses one watershed shared between two states and 26 towns, monitoring the water health of the entire Saco watershed from the mountains to the ocean.
The program began in 2001 with the completion of the Natural Resource Inventory mapping project, and was developed with project partners NH DES, SRCC, Chocorua Lake Association, and UNH as well as the six Watershed towns of Effingham, Freedom, Ossipee, Madison, Sandwich and Tamworth.

RIVERS volunteers are trained in data collection methods to comply with a state and EPA Quality Assurance Project Plan at the beginning of the season and collect data on conductivity, dissolved oxygen, temperature, and pH bi-weekly, and turbidity, total phosphorus, nitrogen, dissolved organic carbon, and anion and cation data monthly from assigned tributaries.
With this long-term dataset, we are able to establish a baseline of water quality as well as assess trends within the watershed. These data are invaluable for understanding temporal trends and how changes in development and land use influence local water quality. We provide this information to schools and towns for research, educational, and planning purposes and data are included in state government reports and scientific papers.
Annual reports can be viewed HERE.
Volunteer Lake Assessment Program (VLAP)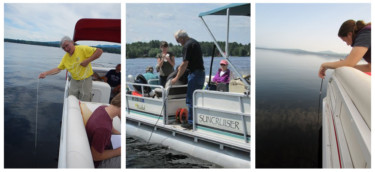 The Volunteer Lake Assessment Program (VLAP) consists of a network of volunteers that assist the NH Department of Environmental Services (NHDES) with lake sampling in order to assess water quality. GMCG leads efforts in the Lake Ossipee system during the summer and submits data to NHDES. Regular testing of our lake systems provides a baseline of chemical and biological parameters that allows early detection of changes in water quality and potential problems.
More information about VLAP, including annual lake reports, is available on the NHDES VLAP website.
Volunteer Biological Assessment Program (VBAP)
The Volunteer Biological Assessment Program (VBAP) is a coordinated effort between the NH Department of Environmental Services (NHDES) and volunteer organizations to develop a statewide screening protocol for documenting the biological condition of wadeable streams. The protocol is designed for individuals and youths with or without professional training. The three major goals of the program are:
To supplement biological data collected by NHDES staff;
To educate the public about water quality issues as interpreted through biological assessments;
To build a constituency of citizens to practice sound water quality management at a local level and build public support for water quality protection.

VBAP is coordinated by GMCG through NH Fish and Game and brings elementary school students across seven towns to local streams and rivers to search for macroinvertebrates, which are small aquatic insects that are biological indicators of environmental health. Students also learn how to use equipment to sample for water quality, take environmental observations, and learn of the importance of the natural resources of the Ossipee Watershed. The student scientists who participate in VBAP each year are excited to share their accomplishments, hard work, and all that they have learned about water quality, and report their findings on the health of their local rivers and streams to the community.
You can view the results of the VBAP program HERE.
Local town contributions, the University of New Hampshire lab assistance and in kind donation of lab support, and donations from GMCG members and businesses help make these programs possible each year. Thank you for your support!