Monday Memories 
Post 15,  August 14, 2017
 Hello All:
Another important resource that we are fortunate to have in the Ossipee Watershed is Historic Resources. Many of us know about these from being active members in our town Historical Societies or because we happen upon an old cellar hole when walking in the woods.  In addition to these more recent sites, we are also blessed with many ancient Native American sites—5-10,000 years old.  During the years of 2000 and 2001, GMCG also hosted important workshops about Native American sites.  A partnership was born between GMCG and NH Division of Historical Resources when sites in the Pine River, Ossipee Lake and Ossipee Mountains were discovered and excavated.  Dick Boisvert, NH Deputy State Archaeologist led several summer field studies in the area through SCRAP(State Conservation and Rescue Archaeology Program).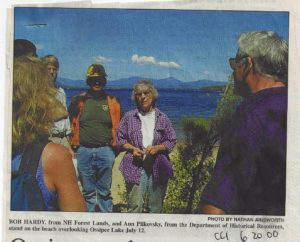 One of the sites NHHR visited was the Ossipee Lake Natural Area on Ossipee Lake where there are many signs of early occupation. (5000 years ago)  Pictured here are David Van Luven from NH Heritage Inventory, Bob Hardy from DRED, Ann Pilkovsky from NHHR and Harry Merrow former Ossipee Selectman.
Here is a summary from their work in the Ossipee Watershed in 2000—with exciting finds!:
SCRAP Fieldschool 2000:  A Brief Summary of Survey in the Ossipee Watershed
Sarah Ward Dunham,  New Hampshire Division of Historical Resources
The New Hampshire Division of Historical Resources and State Conservation and Rescue Archaeology Program (SCRAP) Prehistoric Archaeology Fieldschool was held from June 19 to  July 28, 2000 in the Ossipee Mountain Region of New Hampshire.  Approximately 45 volunteers and students, including many locals of the Ossipee area, gained SCRAP field and laboratory experience and certification under the direction of Deputy State Archaeologist, Dick Boisvert, Field Supervisor Ann Pilkovsky, and Lab Manager Sarah Dunham.
The primary goal of the fieldschool was to locate the bedrock source of hornfels, a workable stone used predominantly for prehistoric tools at archaeological sites in the area.  Hornfels is produced by the contact metamorphism of volcanic ash by subsequent intrusions of igneous material.  Based on the density of hornfels in the area, archaeologists have suspected that the source lies in the ring dike which forms distinct circular shape of the Ossipee Mountains.  With that goal in mind, the fieldschool focused on several sites that lie in the shadow of the Ossipee Mountains, both on the slopes and along the banks of the Bearcamp River to the north.  The fieldschool began with an emergency salvage operation already underway at the construction site of the Tamworth Transfer Station at the base of Mount Whittier.  Discovered by Ann Pilkovsky in late May, the site was already heavily disturbed by construction by the time she and Dick Boisvert were able to return to do further testing.  Do to further disturbance and construction deadlines, the fieldschool crew was only able to put in one day of fieldwork.  The site yielded many hornfels flakes and several biface fragments.  Read the full article here….
In celebration of Green Mountain Conservation Group's 20th Birthday (May 1, 1997-May 1 2017) we will be posting Memories on Mondays in May through September on the GMCG Facebook page and on our website www.gmcg.org.  If you would like to be part of this journey please "like" Green Mountain Conservation Group on our Facebook page. We are trying to raise funds for our new home—-The Patricia and Charles Watts Conservation Center also known as the Blue Heron House on the Ossipee River and expansion of staff needed to run our programs. We are doing this online through this campaign by asking you to consider a gift of $20 in honor of our 20th Birthday. Do you have a connection to the Ossipee Watershed? Did you know a former staff person or Board member over the past 20 years who you would like to honor? Can you also invite your own friends and families who have connections to this Watershed or a specific person and ask for a contribution too? Please feel free to forward our posts and information. THANK YOU.
Donations can be made to : CLICK HERE
Each gift of $1000 raised in a specific person's name will honor that person with a plaque on a rocking chair. For example—if you send in a donation of $20 in a staff or previous board member's name, that will be tracked and recorded as a gift to honor that specific person. If you can help by inviting 50 friends to do the same then you will have helped raise $1000 and that person and you will have your name on one of our porch rocking chairs.
Thank you!


Blair Folts, GMCG Executive Director
To access previously posted 20 Years of Memories, look to the right hand margin.