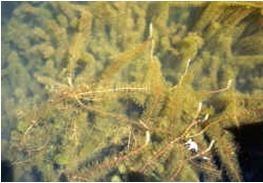 Milfoil & Exotic, Invasive Species of Plants
According to the NH DES, the most wide-spread invasive exotic plant in the state, variable milfoil, Myriophyllum heterophyllum, spread from Lake Winnipesaukee to 38 other waterbodies, primarily through human activity.   Live fragments of these plants that are capable of taking root often enter lakes attached to boat hulls, outboard motors, boat trailers, or fishing gear.
Invasive exotic aquatic plants pose a threat to the ecological, biological, chemical, functional, recreational, aesthetic, and economical values of our lakes and ponds, cost towns and tax payers money to remove and manage to avoid widespread expansion, and without long term plans for weed management will have a detrimental impact on property values.
Chapter V A.3 Section III of the GMCG drafted Ossipee Watershed Natural Resources Planning Guide: Surface Water Resources: Lakes and Ponds, provides information about milfoil, and exotic invasive species of plants.    This section of the guide discusses Ossipee Lake infestations, and treatment and prevention programs.
GMCG supports the NH Lake Host Program that DES offers to communities throughout NH. Currently in our area  the Ossipee Conservation Commission oversees this program, making it available to our local constituents and seasonal visitors. We work closely with these groups to help raise public awareness on this issue. If you would like to volunteer for Lake Hosting this summer, please sign up here!
Other resources include: