GMCG Natural Area
The GMCG Natural Area entrance is located on Green Mountain Road just 0.1 miles South of the Route 25 intersection. Look for the wooden steps directly off the East side road shoulder.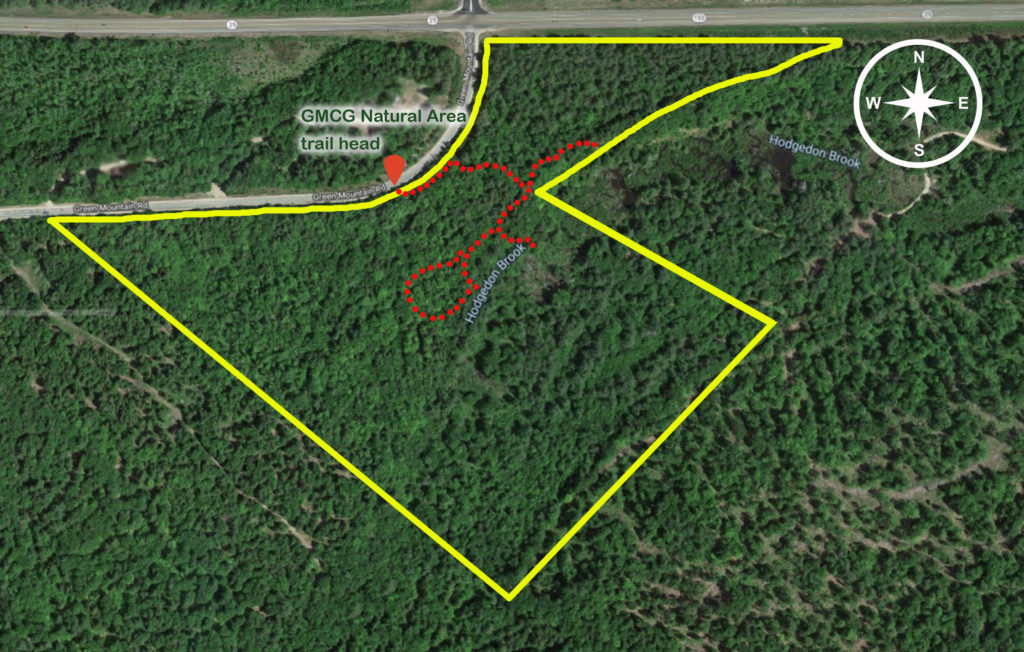 Though it has taken nearly twenty years, we are excited to announce the GMCG Natural Area and trail is now open to the public. This property is GMCG's very first conservation land comprised of 41 acres at the base of Green Mountain. This land was acquired through an anonymous donation in 2000. The trail was unveiled with a ribbon cutting ceremony on Tuesday October 29, 2019, and attended by volunteers, GMCG staff, board members, and curious local residents. Because it was close to Halloween, GMCG staff members dressed in costume to lead a fun group walk of the trail.
Not only is this land important from a conservation perspective, but the process followed to procure it is also an excellent example of how GMCG's mission of R.E.A.L.—research, education, advocacy and land conservation —works as a "braid." The interest in protecting this land began in 1999 when a waste management company sought to locate a commercial trash transfer station there. An informal group of area residents, K.E.E.P.O.U.T., opposed this proposal, and worked to educate others about the important natural resources on the property and in the surrounding area. GMCG supported the efforts of this group and worked with them. The site was then studied and mapped to see where the development would be in relationship to the water resources that included the stratified drift aquifer and bedrock aquifers. (Research)
GMCG then partnered with citizens on a series of educational events to explain why this was not an appropriate site for what was proposed. (Education) GMCG worked with members of the community (businesses, school, GMCG members and town officials) on a letter writing campaign that urged the New Hampshire Department of Environmental Services to deny this application primarily because of its close proximity to the largest stratified drift aquifer in the state. (Advocacy) Finally, the moment the P&S on the land expired, an anonymous donor purchased the property and gifted it to GMCG. (Land Conservation)
While GMCG's main involvement focused on the importance of the aquifer, there was an equal concern with the importance of this land as a link to several critical conservation lands in the immediate area. The parcel provides an important corridor for wildlife movement and habitat sanctuary.
In the end, the land was protected and GMCG's land conservation efforts began. Through the project GMCG also began lasting partnerships with other organizations focused on resource conservation, including: the Forest Society; NH Department of Resources & Economic Development; The Nature Conservancy; and NH Audubon.