Monday Memories 
Post 11,  July 10, 2017
 Hello All:
1999 was also a year full of natural resource advocacy. 
OK. So I am trying to get my head around this. Each Monday I look through old GMCG paper files for inspiration and for memories. You can imagine my surprise when I found a file about Ossipee Lake-drinking water protection zone and documents that all municipal officials in Ossipee voted to deny a variance to Westward Shores for a 10,000 gallon underground gas tank "because it didn't meet the five criteria for a variance."  That was in July of 1999.   How could this be happening again?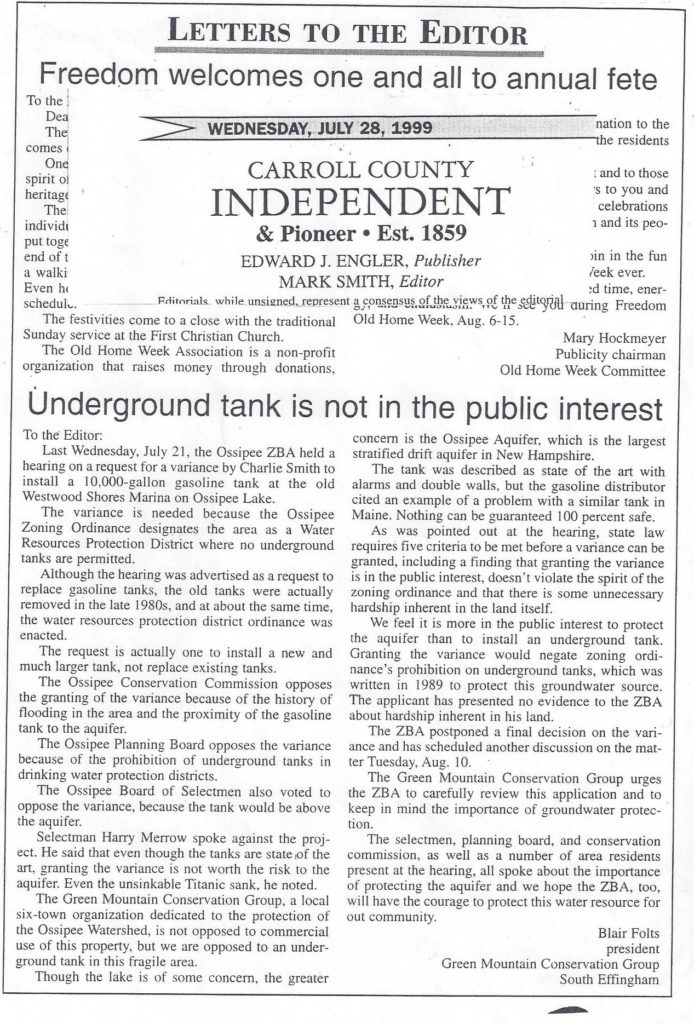 The other conversation that summer included discussions and public presentations about why gas tanks should NOT be installed in Drinking Water Protection areas.  Sarah Pilsbury from NH DES wrote this informative letter back then.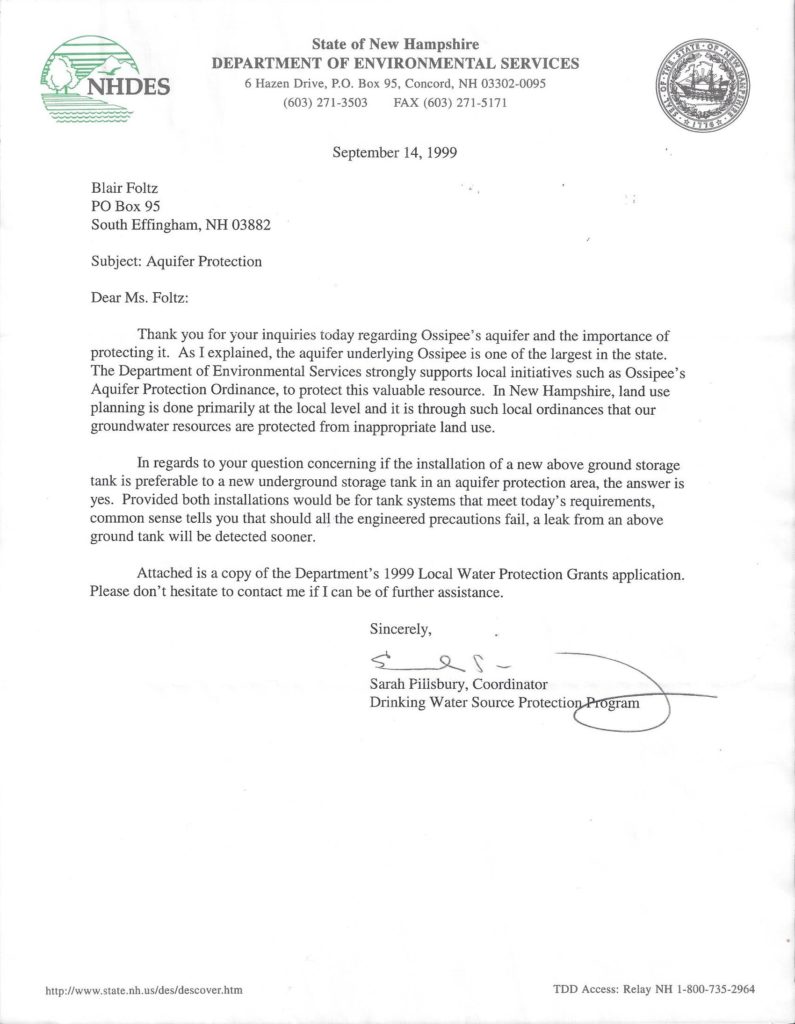 And the other conversation that summer was about the problems with Westward Shores flooding in 1998 as well as in 1973………At one Ossipee meeting during the summer of 1999,  Harry Merrow pointed out that "even though the Titanic was a state of the art ship it still sank……."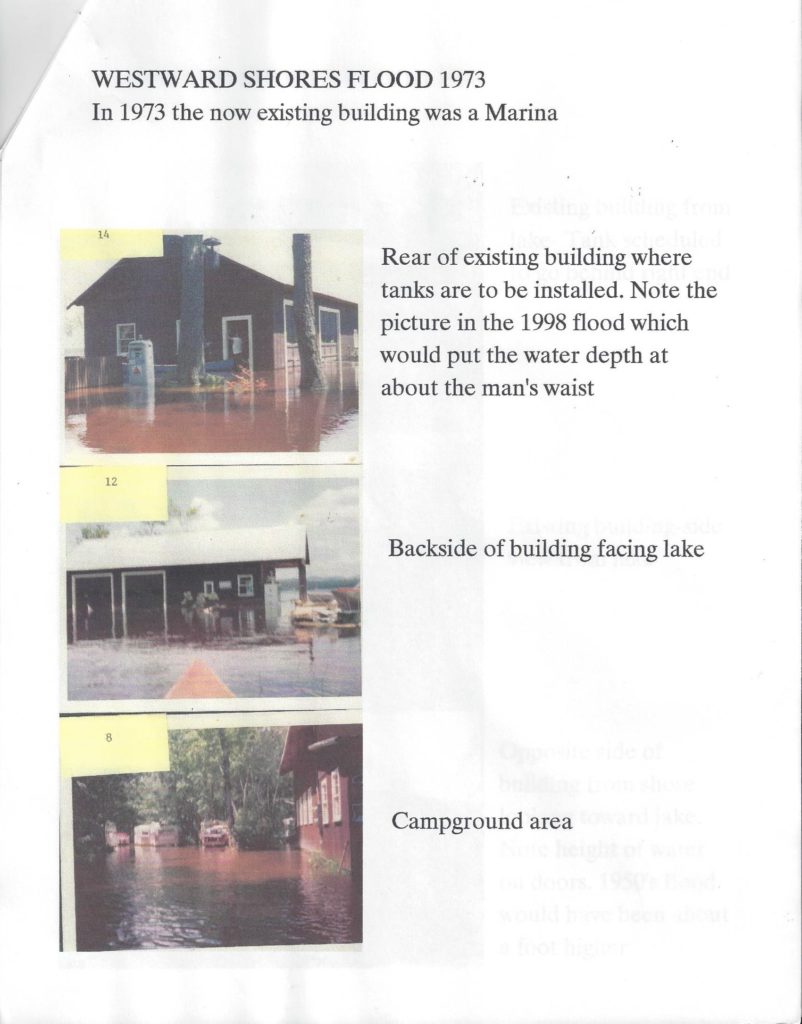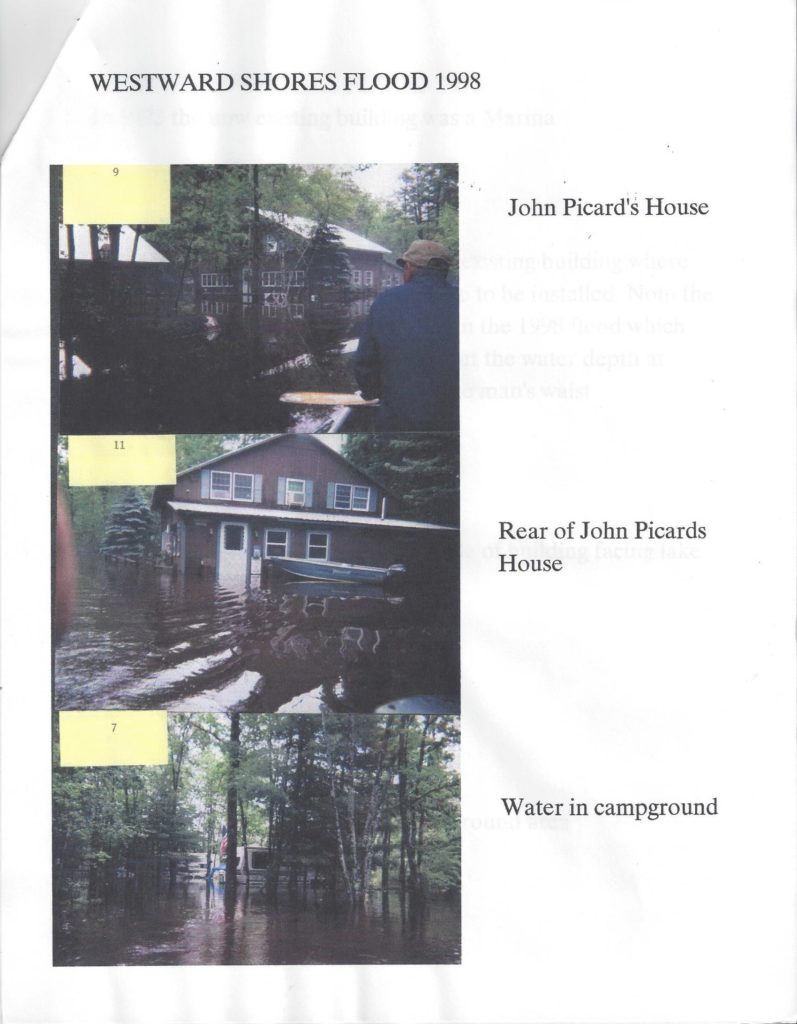 The natural resources should not be placed in harm because of fickle politics or changing municipal boards.  Ordinances have been created to protect important natural resources—there is nothing more important than clean drinking water and this was clearly stated in 1999 by the people in Ossipee, town officials, NH DES and others across the Watershed. The need to protect our drinking water resources has not changed over the past two decades.  Why the Ossipee Watershed is again facing a debate about whether variances should be granted for development  in an existing flood plain or if large scale underground commercial gas tanks should be permitted in a drinking water protection area when clearly the five criteria for a variance cannot be met is incomprehensible.
It also points to the need for an Aquifer Advisory Board now to help guide protection of our shared drinking water resources.  If you are interested in learning more about Aquifer Advisory Steering Committee and how to protect this critical resource please join GMCG on Monday July 17, 2017 at the Freedom Town Hall for an Ice Cream Social.  Meet friends and neighbors and learn how you can help the Aquifer Steering Committee to create a regional, non-regulatory committee that will help guide large scale projects and protect our water.
In celebration of Green Mountain Conservation Group's 20th Birthday (May 1, 1997-May 1 2017) we will be posting Memories on Mondays in May through September on the GMCG Facebook page and on our website www.gmcg.org.  If you would like to be part of this journey please "like" Green Mountain Conservation Group on our Facebook page. We are trying to raise funds for our new home—-The Patricia and Charles Watts Conservation Center also known as the Blue Heron House on the Ossipee River and expansion of staff needed to run our programs. We are doing this online through this campaign by asking you to consider a gift of $20 in honor of our 20th Birthday. Do you have a connection to the Ossipee Watershed? Did you know a former staff person or Board member over the past 20 years who you would like to honor? Can you also invite your own friends and families who have connections to this Watershed or a specific person and ask for a contribution too? Please feel free to forward our posts and information. THANK YOU.
Donations can be made to : CLICK HERE
Each gift of $1000 raised in a specific person's name will honor that person with a plaque on a rocking chair. For example—if you send in a donation of $20 in a staff or previous board member's name, that will be tracked and recorded as a gift to honor that specific person. If you can help by inviting 50 friends to do the same then you will have helped raise $1000 and that person and you will have your name on one of our porch rocking chairs.
Thank you!


Blair Folts, GMCG Executive Director
To access previously posted 20 Years of Memories, look to the right hand margin.