Monday Memories 
Post 12,  July 17, 2017
 Hello All:
Advocacy in 1999 included aquifer protection on Ossipee Lake, aquifer protection in Effingham and Tamworth, and natural resource protection in Pine River State Forest. 
Education and outreach remained GMCG's main focus in those early years.  Volunteers and staff would give presentations to each town's municipal boards about natural resource based planning.  Newly created GIS maps were being given to towns and workshops were held to teach planning board members how to read them and how to use them for planning purposes.   There are ways to promote growth and protect shared natural resources at the same time.  Workshops were also held on the "Dollars and Sense of Protecting Open Space" and residents learned how conserved open space can actually cost the town less in services.
Not only did GMCG advocate for aquifer protection on Ossipee Lake from the threat of a 10,000 gallon gas tank but the organization faced several other large scale developments that threatened to impact natural resources in the Watershed.  There was a proposal by a large garbage company to create a regional (New England) transfer station first in Tamworth and then in Effingham—both towns chosen because of their lack of zoning; and there was a proposal to create an extensive ATV park in the Pine River State Forest.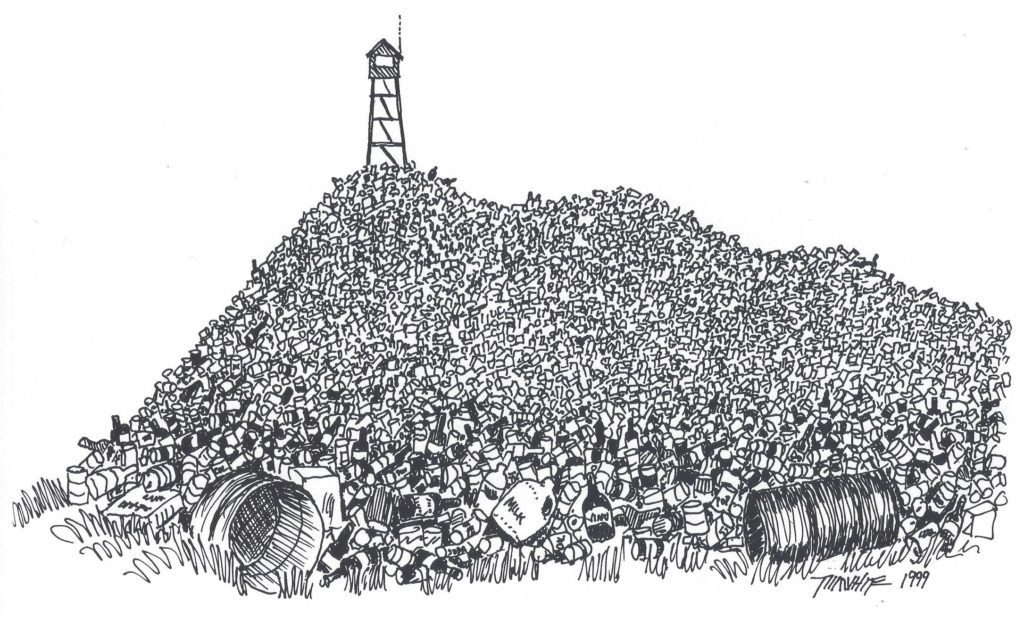 Cartoonist Tim White has been loyally drawing four cartoons a year for GMCG since our inception! THANK YOU TIM! Visit all of his cartoons by reading the Watershed News HERE.
K.E.E.P.O.U.T. formed in Effingham (Keep Effingham Environmentally Protected Oust Unwanted Trash) to combat the trash company and S.T.O.P.I.T. formed in Tamworth.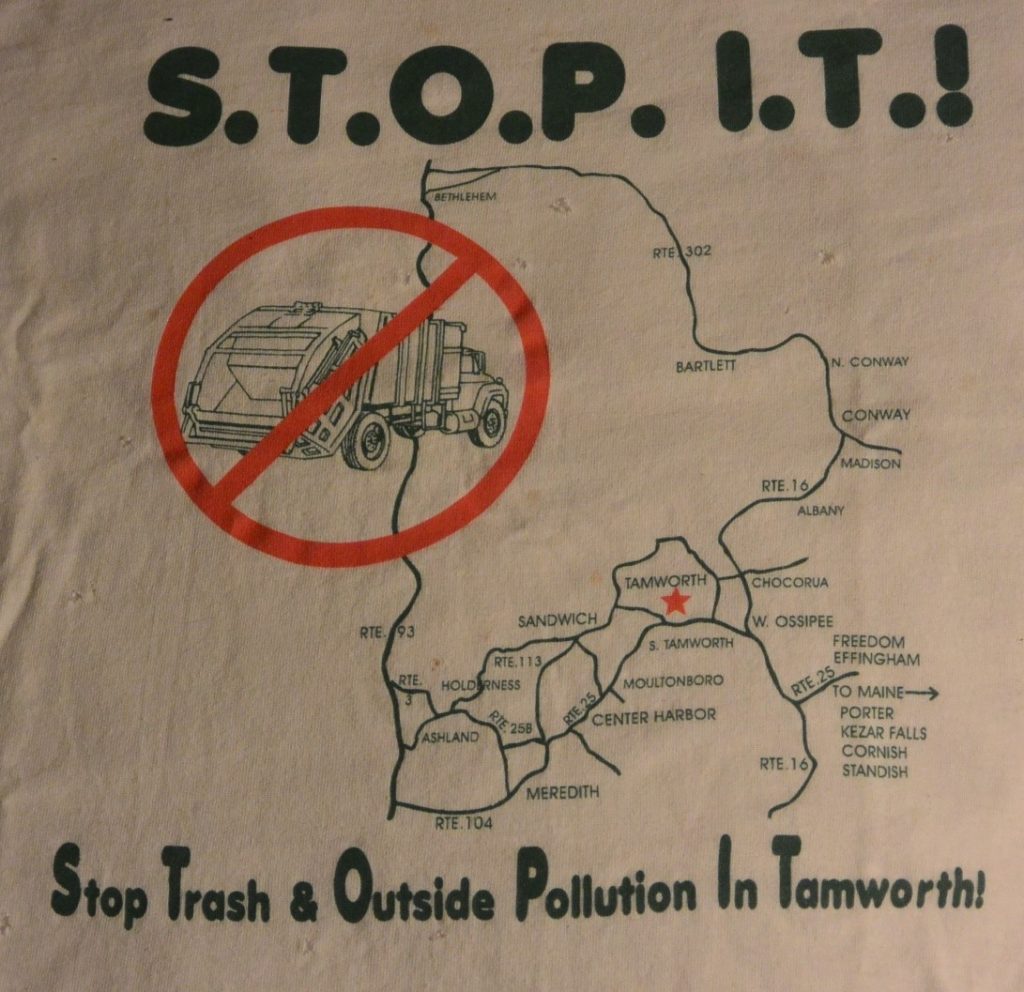 GMCG advocated for water protection from the "garbage juice" as well as pushed the State to follow its then mandate to "decrease the importation of trash."
That same year there were many issues around erosion from illegal and rogue ATV use.  There was also a push to turn the Pine River State Forest into an ATV park.  Hundreds of people turned out in support of protecting this magical forest that one man said was "like entering a sacred cathedral."  All the while, residents, visitors and municipal officials were learning more and more about the unique natural resources found in the Ossipee Watershed and why it was and continues to be so important to speak up for protection of them.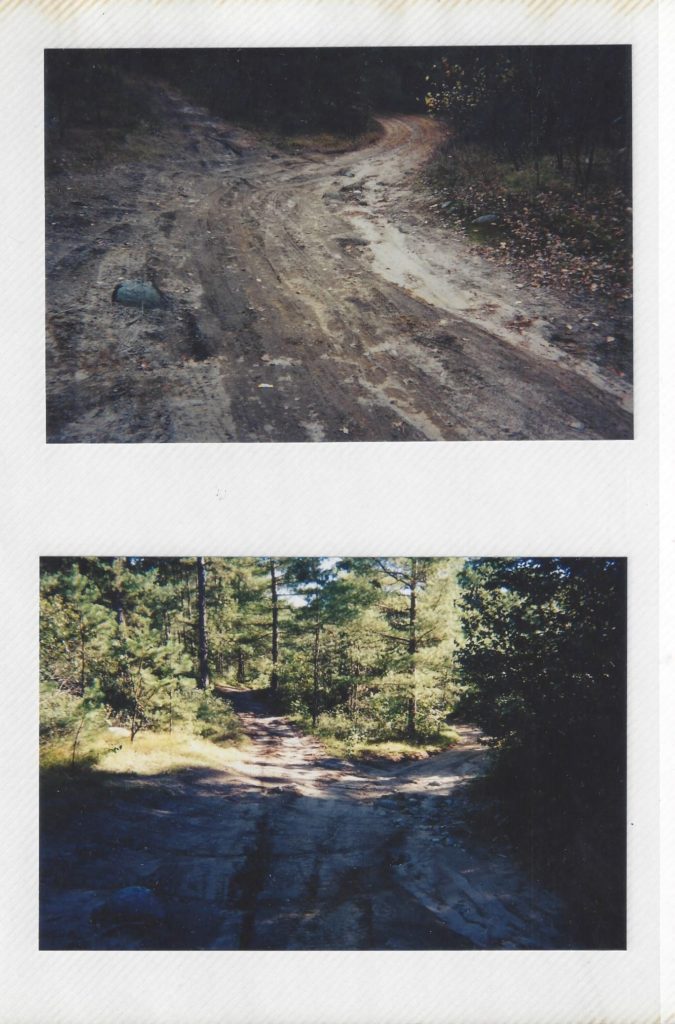 Illegal ATV use in the Pine River State Forest caused intense erosion in a very short time. 
In celebration of Green Mountain Conservation Group's 20th Birthday (May 1, 1997-May 1 2017) we will be posting Memories on Mondays in May through September on the GMCG Facebook page and on our website www.gmcg.org.  If you would like to be part of this journey please "like" Green Mountain Conservation Group on our Facebook page. We are trying to raise funds for our new home—-The Patricia and Charles Watts Conservation Center also known as the Blue Heron House on the Ossipee River and expansion of staff needed to run our programs. We are doing this online through this campaign by asking you to consider a gift of $20 in honor of our 20th Birthday. Do you have a connection to the Ossipee Watershed? Did you know a former staff person or Board member over the past 20 years who you would like to honor? Can you also invite your own friends and families who have connections to this Watershed or a specific person and ask for a contribution too? Please feel free to forward our posts and information. THANK YOU.
Donations can be made to : CLICK HERE
Each gift of $1000 raised in a specific person's name will honor that person with a plaque on a rocking chair. For example—if you send in a donation of $20 in a staff or previous board member's name, that will be tracked and recorded as a gift to honor that specific person. If you can help by inviting 50 friends to do the same then you will have helped raise $1000 and that person and you will have your name on one of our porch rocking chairs.
Thank you!


Blair Folts, GMCG Executive Director
To access previously posted 20 Years of Memories, look to the right hand margin.