Monday Memories 
Post 13,  July 31, 2017
 Hello All:
As GMCG moved into 2000—a new decade and new millennium—more and more advocacy challenges presented themselves as well as several new programs.  
Partnership with UNH Cooperative Extension brought the completion of the new GIS natural resource maps of all of the Watershed Towns.  Presentations and workshops were held in each town to teach planning board members how to read and use the new GIS maps and plan for growth in their town in a way that also provided for natural resource conservation.
Several new programs also began in 2000.  GMCG Board members began a conversation about creating our first conservation easement on 400 acres of forested land in Wonalancet on Mount Katherine.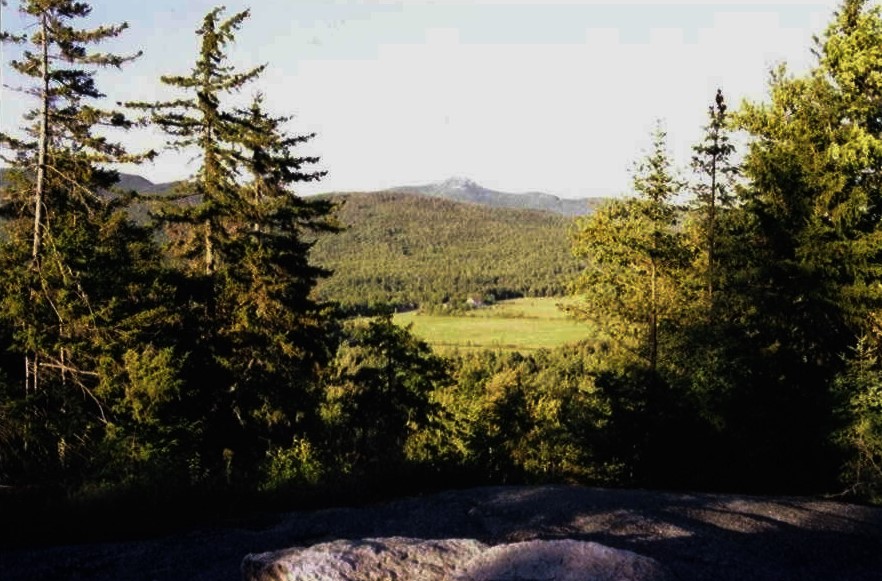 From the summit of Mount Katherine one looks down onto Steele Farm in Wonalancet and Mt. Chocorua in the distance.
 The advocacy over protecting land from becoming a regional transfer station ended up with GMCG owning its first parcel of land—named Green Mountain Natural Area as it sits at the base of Green Mountain.  In honor of that campaign, Lakeview Neurorehabilitation hosted a barbecue. Charles and Particia Watts came and lead a tour to the cupola on the main barn which used to be their family farm.  Charlie even pointed out his signature up on the wooden ceiling in the cupola.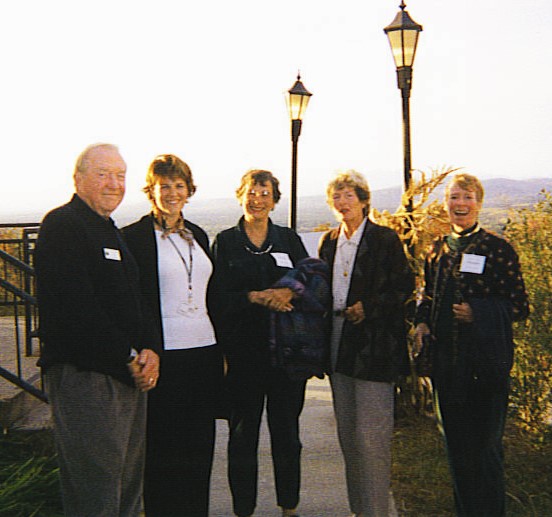 October Celebration or GMCG's first acquisition of land, the Green Mountain Natural Area, took place at Lakeview on Green Mountain. Charlie Watts (left), Lakeview Director, Mary Lee Allison, Patricia Watts and un-remembered guest (right).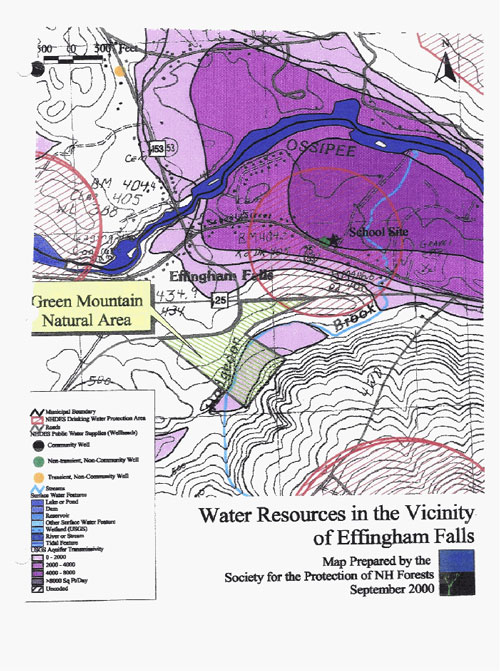 GMCG Board members were able to reflect on the accomplishments set forth in that first strategic plan that said we would hold our first conservation easement and fee land by 2000 and 2001. Both of which happened.
GMCG also began our first dialogue with Saco River Corridor Commission in Cornish, Maine, about creating a regional water quality monitoring program that would possibly include 27 towns, two states and one watershed and would share one QAPP—an EPA approved document, Quality Assurance Project Plan—more to come…….
And we partnered with other downstream neighbors—Friends of the Leavitt Plantation— to help conserve the nearly 9000 acres of forested land in Parsonsfield, Maine which became the Leavitt Plantation.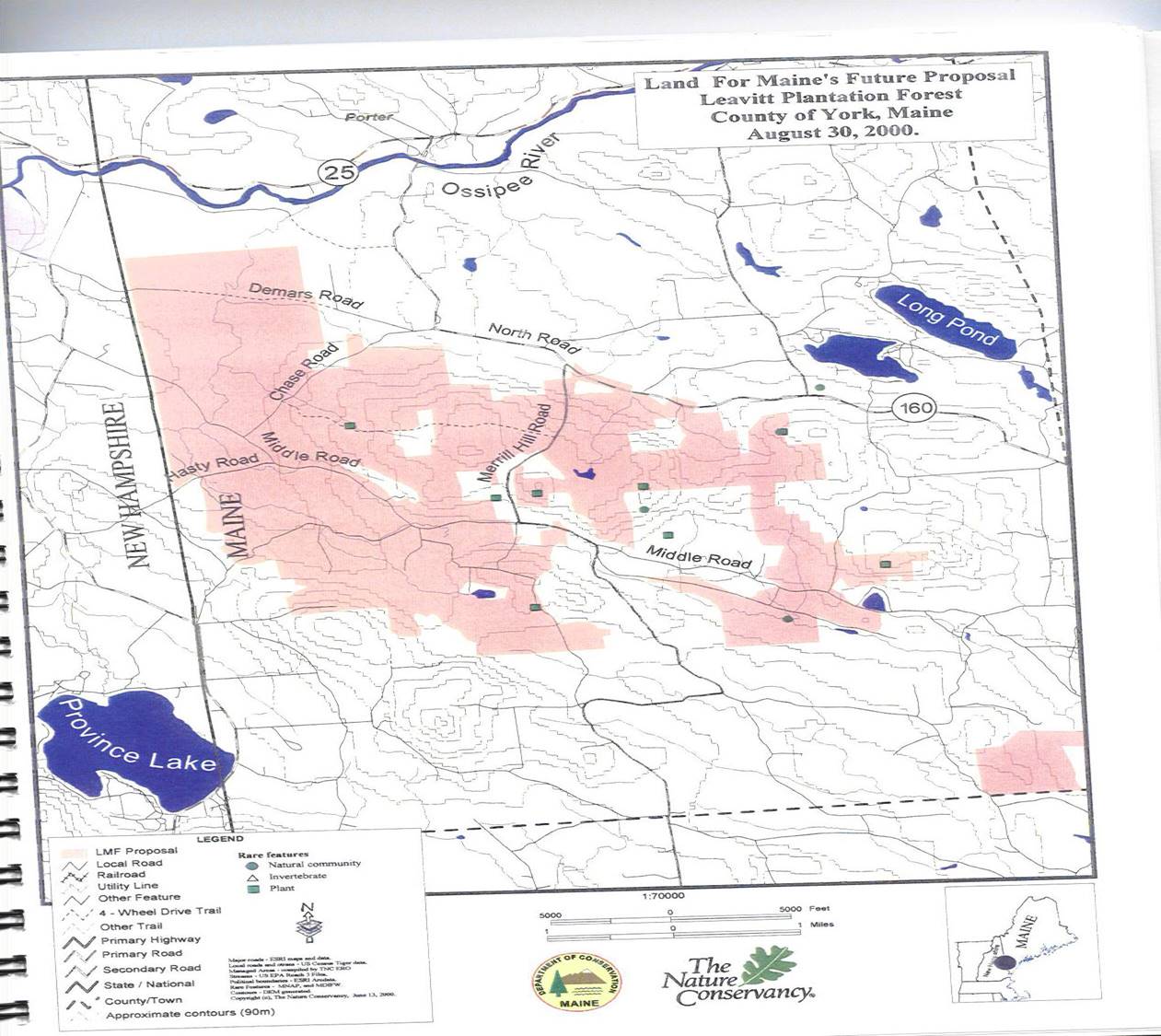 Leavitt Plantation Forest is on the border of New Hampshire and Maine.  It is nearly 9000 acres and is managed for sustainable forestry.  Though privately held, it remains open to public use.
In celebration of Green Mountain Conservation Group's 20th Birthday (May 1, 1997-May 1 2017) we will be posting Memories on Mondays in May through September on the GMCG Facebook page and on our website www.gmcg.org.  If you would like to be part of this journey please "like" Green Mountain Conservation Group on our Facebook page. We are trying to raise funds for our new home—-The Patricia and Charles Watts Conservation Center also known as the Blue Heron House on the Ossipee River and expansion of staff needed to run our programs. We are doing this online through this campaign by asking you to consider a gift of $20 in honor of our 20th Birthday. Do you have a connection to the Ossipee Watershed? Did you know a former staff person or Board member over the past 20 years who you would like to honor? Can you also invite your own friends and families who have connections to this Watershed or a specific person and ask for a contribution too? Please feel free to forward our posts and information. THANK YOU.
Donations can be made to : CLICK HERE
Each gift of $1000 raised in a specific person's name will honor that person with a plaque on a rocking chair. For example—if you send in a donation of $20 in a staff or previous board member's name, that will be tracked and recorded as a gift to honor that specific person. If you can help by inviting 50 friends to do the same then you will have helped raise $1000 and that person and you will have your name on one of our porch rocking chairs.
Thank you!


Blair Folts, GMCG Executive Director
To access previously posted 20 Years of Memories, look to the right hand margin.