MONDAY MEMORIES
Post 1  May 1, 2017
Dear Friends,
This is a long post but I am hoping you can take the time to read it.
MAY 1st is an important day for me and especially this year. It marks the 20th Birthday of the founding of the Green Mountain Conservation Group. While I know many amazing things have happened and there has been so much positive conservation work done as a result of this path, it also came with a much pain and a compromise to my time as an artist. At this 20th year crossroad, I can reflect on all that has happened, the amazing people I have worked with, the energy of support from towns and our cross border partners in both Maine and New Hampshire and our partnerships with so many different stakeholders……so many blessings and incredible connections….. It has been an amazing and humbling journey!
Happy Birthday Green Mountain Conservation Group!
20 years ago I was invited by Stan and Glad Brown to attend a celebration at Eve and Bill Klotz's FARM BY THE RIVER in Effingham for Charles and Patricia Watts who had just donated over 1000 acres of land on Green Mountain to the Society for the Protection of New Hampshire Forests–The High Watch Preserve. I remember the day as if yesterday.  At the event, I was so moved by "Charlie's" speech, that I came home and thought to myself I had to make a difference. I had to stop being a house plant and start speaking up for what I cared about. There was a race track that was going to come to town.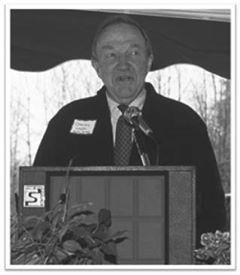 May 1, 1997 Charlie Watts delivering key note address at Farm by the River and the celebration of the newly protected land on Green Mountain with the Society for the Protection of New Hampshire Forests.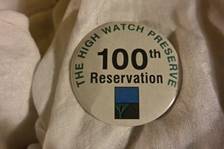 Tom Howe announced that the High Watch Preserve was the 100th reservation with SPNHF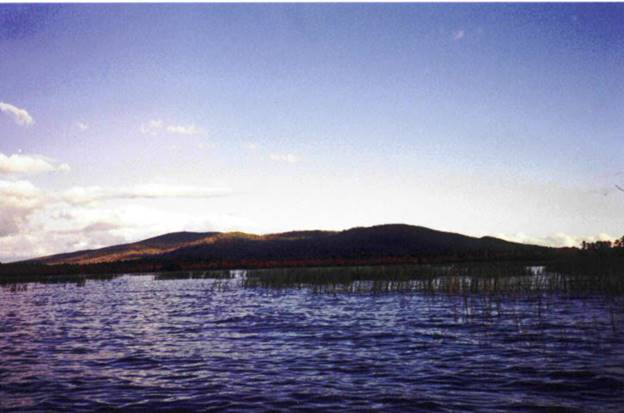 Green Mountain from Ossipee Lake. The High Watch Preserve is to the left of the photo.
The next day was a hearing at the Effingham Fire Station to discuss the plan for the racetrack on the Effingham and Ossipee Town line.  This proposed track was to be located just over the Ossipee Aquifer. When the then owner was asked about spills he said "it will be a self-cleaning track because it is over sand."  We know now that being over sand meant that that was an important recharge area for the drinking water resources.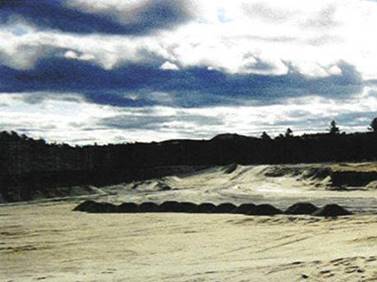 I had not planned to get involved but with Charlie Watts's words newly in my head, I went. I spoke up in public for the first time and noted that only half the room booed—–the other half cheered and I was able to seek out like minded folks who were concerned about protecting natural resources and quality of life. These early founders included, Susan Slack, Jennifer Van Cor, Tim White, Bill Piekut, Jack Russel, Barbara Ross, Henry Spencer, Don LaChance, Margaret Stewart , Stan Drelick, and Eve and Bill Klotz.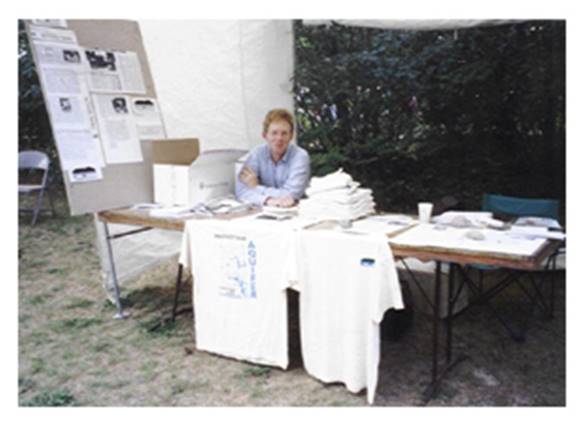 Henry Spencer at the First Watershed Weekend 1998, Camp Calumet. We didn't have an office but we had a t-shirt that showed the aquifer!
That was a long time ago and much has changed particularly when it comes to DRINKING WATER but it was listening to Charlie Watts on May 1, 1997 that gave me the inspiration needed to spearhead the formation of the Green Mountain Conservation Group (GMCG).
Front to back: Blair Folts, Emelyn Albert, Beth Earle, Peter Pohl, Noreen Downs, Claus Telemark, Warren Walker, Duane Dale,  Dan Stepanauskas, Scott Aspinall, David Little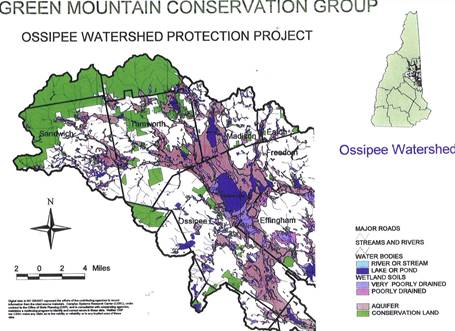 In celebration of Green Mountain Conservation Group's 20th Birthday (May 1, 1997-May 1 2017) I will be posting Memories on Mondays in May through September on the GMCG Facebook page.  If you would like to be part of this journey please "like" Green Mountain Conservation Group on our Facebook page. We are trying to raise funds for our new home—-The Patricia and Charles Watts Conservation Center also known as the Blue Heron House on the Ossipee River and expansion of staff needed to run our programs. We are doing this online through this campaign by asking you to consider a gift of $20 in honor of our 20th Birthday. Do you have a connection to the Ossipee Watershed? Did you know a former staff person or Board member over the past 20 years who you would like to honor? Can you also invite your own friends and families who have connections to this Watershed or a specific person and ask for a contribution too?
Donations can be made to : CLICK HERE
Each gift of $1000 raised in a specific person's name will honor that person with a plaque on a rocking chair. For example—if you send in a donation of $20 in a staff or previous board member's name, that will be tracked and recorded as a gift to honor that specific person. If you can help by inviting 50 friends to do the same then you will have helped raise $1000 and that person and you will have your name on one of our porch rocking chairs.
Thank you all for your personal support to my work over the past 20 years.  Thank you for your caring, volunteering, working and speaking up for science based conservation of our shared natural resource!
Stay tuned for more memories each Monday on the GMCG Facebook page if you are interested!
Blessings on this May Day………………….


Co-Founder and Executive Director