MONDAY MEMORIES
POST 2       May 8, 2017
Thanks to everyone who responded to the post last week and sent in fun stories as well as donations. We have TWO NEW ROCKING CHAIRS in the names of : 
Matt (Leavitt) Heckler and his great great grandfather Dr. James M. Leavitt And Susan Slack, co-founder of GMCG.
THANK YOU!
TODAY:    What's in a name?
Over the years, folks have always asked us, how did Green Mountain Conservation Group get its name? Aren't the Green Mountains in Vermont?
Green Mountain is just about in the center of Effingham. In this photo from the Effingham Historical Society you can see it as the backdrop of the center of town.  There is also a fire tower on top that was opened in 1922 after it was moved from Cedar Mountain in Maine.  The tower structure is 60 feet high.  While it is not manned currently on a regular basis it is still a working tower managed by NH Department of Resources and Economic Development Forestry Division.
It was a lovely June day back in 1997 when early GMCG founders, Blair Folts and Jennifer Van Cor were out for a Saturday morning walk to talk about the upsetting news about the racetrack coming to town.  In their talk they were both sure that if they wrote to the owner of the land, a long time resident of Ossipee, surely he would understand the importance of protecting the land for drinking water and surely he would consider possibly selling the land for conservation instead.  They knew to write him they had to have an address and create a group name so that he could respond to the "group" and not to individuals.  They both looked up where they were walking and responded "hey, there is Green Mountain across the way, why don't we call ourselves "the Green Mountain Group" and that way we can pull the town all together and the mountain can unite us as one rather than divide us by what side of town you live on."
Click Here for picture of Green Mountain on the right made up of 7 summits.
And so the two went to the tiny Effingham Post Office which back then was only 300 people strong and asked to take out a mailbox for "Green Mountain Group."  They pooled their pocket money together and took out the first box number, Box 95, which they never thought they would use again except to write this one letter.  Below is a section from that letter of June 18, 1997:
"The Green Mountain Group, as we call ourselves, is interested in providing an alternative future for this property.  We are interested in purchasing your parcel at a price based on objective fair market value of the land.  Our vision is to augment the high quality of life resulting from the bountiful unspoiled land around us.  We sincerely hope that you understand our desire to preserve the rural nature of this wonderful community.  Thank you in advance for your consideration.  We look forward to hearing from you soon.
                                          We remain respectfully yours,  The Green Mountain Group"
By the next week, folks had heard about what they had done and started to come up to others in the group and say:  "I hear you are starting to collect money to form an organization to protect drinking water, here is my $10."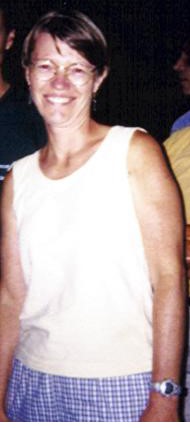 Jennifer Van Cor became the first treasurer of GMCG.
Did you know that from the summit of Green Mountain you can see the entire Watershed from Mt. Washington and the drainage into Saco Lake and the start of the Saco River all the way (on a clear early morning) to the ocean?  It is also the center of the greater Saco Watershed. 
In celebration of Green Mountain Conservation Group's 20th Birthday (May 1, 1997-May 1 2017) we will be posting Memories on Mondays in May through September on the GMCG Facebook page and on our website.  If you would like to be part of this journey please "like" Green Mountain Conservation Group on our Facebook page. We are trying to raise funds for our new home—-The Patricia and Charles Watts Conservation Center also known as the Blue Heron House on the Ossipee River and expansion of staff needed to run our programs. We are doing this online through this campaign by asking you to consider a gift of $20 in honor of our 20th Birthday. Do you have a connection to the Ossipee Watershed? Did you know a former staff person or Board member over the past 20 years who you would like to honor? Can you also invite your own friends and families who have connections to this Watershed or a specific person and ask for a contribution too? Please feel free to forward our posts and information. THANK YOU.
Donations can be made to : DONATE TODAY
Each gift of $1000 raised in a specific person's name will honor that person with a plaque on a rocking chair. For example—if you send in a donation of $20 in a staff or previous board member's name, that will be tracked and recorded as a gift to honor that specific person. If you can help by inviting 50 friends to do the same then you will have helped raise $1000 and that person and you will have your name on one of our porch rocking chairs.
Thank you!


Executive Director, GMCG
To read the May 1, 2017 post, CLICK HERE