Monday Memories
Post 18, September 11, 2017
Hello All: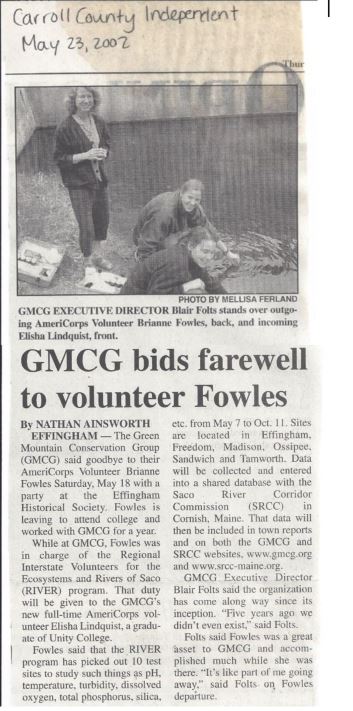 Brianne passes the monitoring meter to Elisha
As Brianne moved on in the spring of 2002, Elisha Lindquist (now Boatman) moved in to fill her position as AmeriCorp Volunteer.  Elisha took over the newly formed water quality program and expanded the volunteer corps to create a comprehensive water quality monitoring program.  GMCG was now located in our very first official office in Freedom Village on the third floor above the Store.  It was exciting to be off the "kitchen table" and be in the Village where folks could easily stop by and find us.  The Water Quality Monitoring program was also supported by our next door neighbor Jim Clemons who lived where the "red door" was in Freedom Village.  He would leave volunteers hot coffee when they stopped to pick up the monitoring equipment.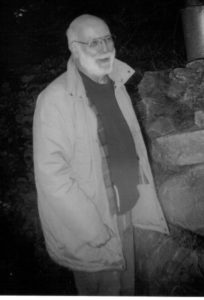 Jim Clemons was one of GMCG's first Water Quality Monitoring volunteers.
Elisha was a passionate and dedicated AmeriCorp volunteer who loved meeting the diverse neighbors across the watershed and did a fantastic job expanding the volunteer corp.  One person she befriended was Jack Russel who lived "up on Green Mountain."  He barely had electricity, didn't have a phone and loved telling Elisha stories of "old Effingham."  Read More in this Newsletter.
Blair and Elisha outside the Freedom office 2002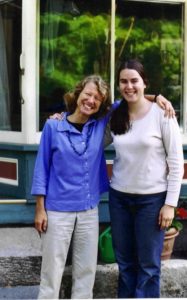 During 2002-2003 GMCG partnered with NH DRED to install an informative sign about the Ossipee Watershed at the boat launch at the Pine River.  GMCG also partnered with NH Lakes Association to begin Lake Hosting on Ossipee Lake at this boat launch.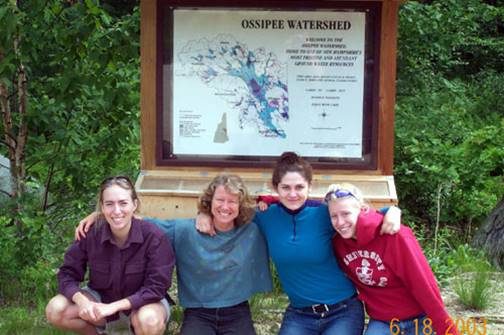 Elisha is a RN now and lives outside Portland with her husband and two lovely young girls.