Monday Memories 
Post 19,  September 18, 2017
Hello All:
2003 saw the expansion of the water quality monitoring program to include sampling the five deep spots on Ossipee Lake.  Elisha helped usher this in.  When her time as an AmeriCorp volunteer ended, GMCG Board voted to create a more permanent position for the Water Quality programs.  Rebecca Hanson was hired as the first Program Director in the summer of 2003.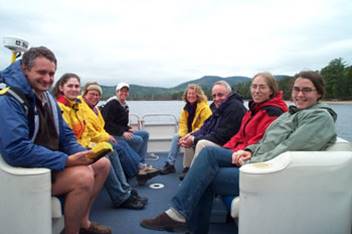 From left to right:  Bob Craycraft, UNH CE, Moselle Spiller Summer GMCG intern, Calumet Summer Program Director, Susan Marks Ossipee Lakes Alliance, Blair Folts, Dwight Baldwin Chocorua Lakes Association, Rebecca Hanson-GMCG Program Director, Elisha Lindquist GMCG AmeriCorp Volunteer establishing water monitoring on Ossipee Lake.
From Holderness, Rebecca brought local knowledge with her as well as a degree in environmental sciences.  Under Rebecca's leadership, Moselle Spiller and Sara Vancor Hosner were trained as Water Quality interns and were instrumental in overseeing the first LEAP (Lake Environmental Assessment Programs) data about recreational uses on Ossipee Lake.
From left to right: Rebecca, Blair, Moselle, Sara at Pine River Boat Launch 2003.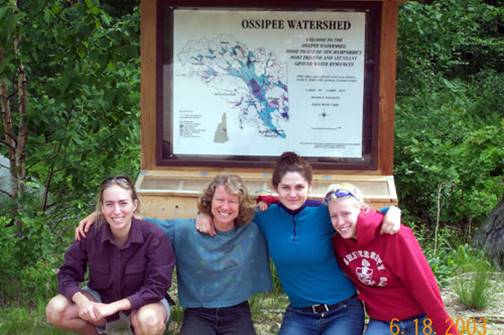 The other major focus in 2003 was a new partnership with the Friends of Trout Pond and the Town of Freedom to procure funding for the creation of the Freedom Town Forest.  Jennifer Molin had come to GMCG even before we had an office and asked for our help in trying to protect this special land. She was so passionate about the idea of "saving the land from inappropriate development" that when she showed up with documents of each parcel of land that made up the nearly 3000 acres that were for sale, GMCG agreed to enter into partnership with the newly formed Friends of Trout Pond.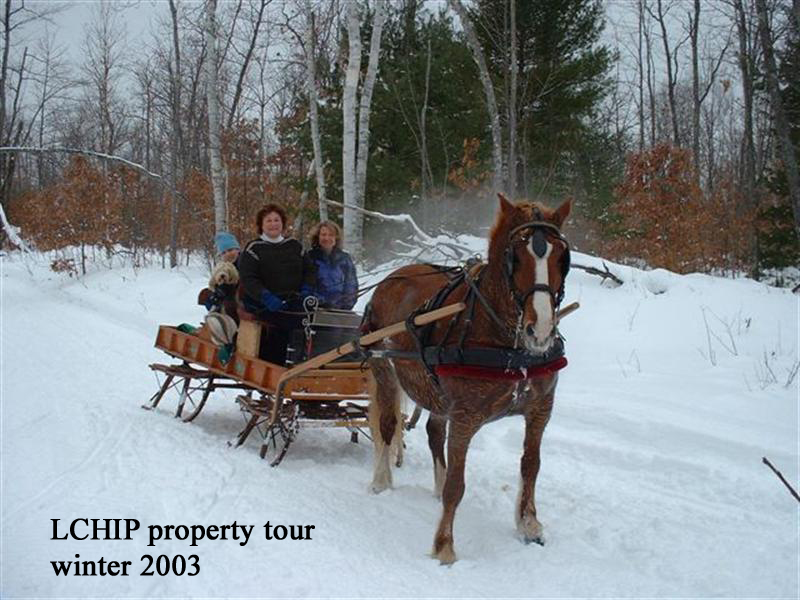 From left to right: Danielle & Lilly, Emilie Riss, Blair Folts and Sophie lead a tour of the Trout Pond property with visitors, funders and folks from the LCHIP Board.  It was a perfect day with fresh snow and gently falling big fluffy snowflakes.  We even had a deer jump out in front of the sleigh.  It was so perfectly timed that the then LCHIP Director blurted out "Ok, that's it—you get the funding!"  (Rebecca was with GMCG in 2003/2004 then moved to Wyoming for a few years.   She returned to NH in 2014 and now is the Director of Conservation at Squam Lakes Association.)