Monday Memories
Post 20, September 25, 2017
Hello All:
At the Annual Meeting in January of 2004, the GMCG Board changed from one of "founding board members" to one of nearly all new people.  In anticipation of this, we hosted a series of workshops that were directed by an outside facilitator who helped guide this transition.  The first workshop was attended by nearly all of the early GMCG founding board and volunteers.  It was a fun day of remembering stories of how we formed but also an informative day to the new folks who learned about the strong mission of water protection through the established tool box of Research, Education, Advocacy and Land Conservation.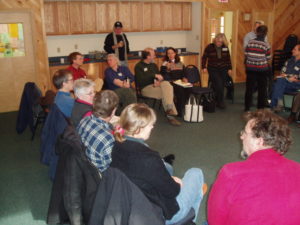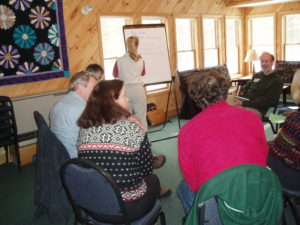 Board training included inviting all the founding board members to a day long workshop.  Duane Dale,(far right) was the 4th GMCG Chair and as a completely new board member he did a great job following up on the initial training for the new board members in 2004 and 2005.
In the spring of 2004 we were interviewing for a new Program Director.  A parent in Fryeburg, Maine called us about her daughter who was graduating from St. Michaels in Vermont and we agreed to interview her the day after her graduation.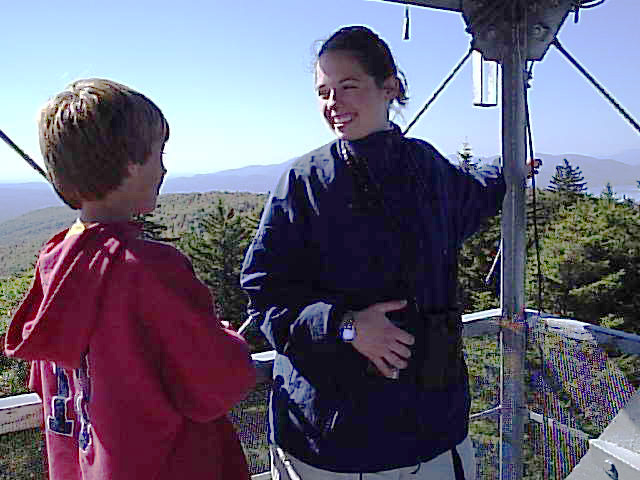 Jennifer Smith, Green Mountain Fire Tower 2004, helped teach kids about "What is a watershed."
Jennifer Smith worked for GMCG for the next year and did a fantastic job running the water quality programs, conducting youth education, hosting workshops on natural resource based planning with Steve Whitman and overseeing many volunteer projects.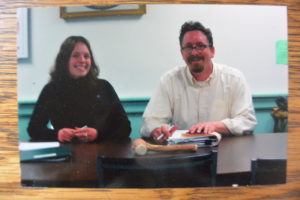 Jennifer Smith worked with natural resource planner Steve Whitman on the Ossipee Watershed Natural Resource Guide Book that was given to each town to use as a planning tool.  
Following her year with GMCG, she went on to become a veterinarian.  She is married (Jennifer Smith Keaton) and lives in Maine where she works as a veterinarian.