Support those who support us all
Good causes everywhere are working to contend with all the ways that COVID-19 has made fulfilling their missions more stressful, more expensive and more complicated. GMCG would like to take this occasion to express our appreciation for our neighboring nonprofits, community-based projects, and volunteers who are leading the response to COVID-19 throughout the Watershed. We want to be sure you are aware of all the programs and essential services available to local residents and the numerous opportunities for voluntarism, in-kind support and direct donations.
There is an abundance of wonderful work going on and we are sure to have overlooked some organizations here, so in addition to sharing this information with your friends, please let us know about other causes we haven't mentioned.
Food pantries and food security
The Freedom Food Pantry housed at the First Christian Church of Freedom continues to provide food every Saturday to residents of Freedom, Effingham and Ossipee. Food donations are always welcome but cash/check donations help ensure they can secure what is needed from the NH Food Bank. Checks can be made payable to the Freedom
Food Pantry and mailed to First Christian Church, P.O. Box 502, Freedom, NH 03836. Also in Freedom, the nonprofit Freedom Village Store has organized a volunteer delivery program for customers who cannot get out. The store is open seven days a week from 10am – 2pm (9am – 2pm on Saturdays) and is operated entirely by volunteers. To learn about volunteering call 603-539-3077. To make a donation click here or mail your check to 11 Elm Street, Freedom, NH 03836.
Agape Ministries' food pantry on Route 16 in Ossipee is open Mondays, Wednesdays and Fridays from 1-3pm. Their Moultonborough pantry at 80 Bean Rd is open Mondays, Wednesdays and Fridays from
9am to Noon and Saturdays from 11am to 1pm. Their popular thrift store sustains the food pantries, but with the store closed since March, donations of food and cash are more important than ever. Food donations can be dropped by during pantry hours and donations can be mailed to 80 Bean Rd, Moultonborough, NH 03254. Call Kevin Straughan at 603-677-6826 for more information or to arrange thrift store donations.
The Ossipee Central School is providing meals for children every Monday between 8 and 10am. Call 603-539-4589 for details. Counseling services are available as well.
For residents of Sandwich and Tamworth, the Tamworth Community Food Center Pantry at St. Andrews Episcopal Church has had to curtail its hours, but remains open every other Wednesday from 3pm to 7pm (next dates are 5/13 & 5/27). To donate food, please arrive about 2pm on pantry days. Checks can be mailed to P.O. Box 14, Tamworth, NH 03886. For more information call Donna Jones, 603-960-4067.
In Madison, The Madison Church Food Pantry at Madison Baptist Church is currently open on Wednesdays by appointment only. Madison residents are asked to call ahead, 603-733-6323 to place their request, and the pantry's volunteers, following strict health protocols, will assemble a box of food for pick-up. Food donations are not currently being accepted, but checks made payable to the Madison Church Food Pantry can be mailed to P.O. Box 119 Madison, NH 03849.
End 68 Hours of Hunger operates programs across NH. Here is the link for information on their services and making donations in Wolfeboro, Tuftonboro, Ossipee and Middleton.
The five towns of the Sacopee Valley in Maine (Porter, Parsonsfield, Cornish, Hiram and Baldwin) are served by the Riverside Food Pantry at the Riverside United Methodist Church, 5 School St., Porter. They are currently operating a "drive-thru" pickup program available to 70 to 80 families on the first and third Friday of every month from 8:30am to 10am. To make donations of food, contact Nancy Perkins, 207-400-2866. Checks payable to Riverside Food Pantry can be mailed to P.O. Box 433, Cornish, ME 04020.
Meals on Wheels is available throughout the Watershed
Tamworth – Tamworth Community Nurse Association volunteers call all Meals on Wheels clients every morning for a wellness check. They have a particularly great need at the moment for more volunteer drivers, and can be reached at 603-323-8511 (drivers are also needed to help with deliveries of prescriptions and groceries).
Madison & Eaton – The Gibson Center for Senior Services based in North Conway is continuing to provide Meals and Wheels and transportation services for medical appointments to the residents of Eaton, Madison, Albany, Bartlett, Chatham, the Conways, Hart's Location and Jackson. Ossipee, Tamworth, Effingham & Freedom – Ossipee Concerned Citizens is coordinating Meals on Wheels, and residents can reach them at 603-539-6851 for information on food available for curbside pickup.
Health Services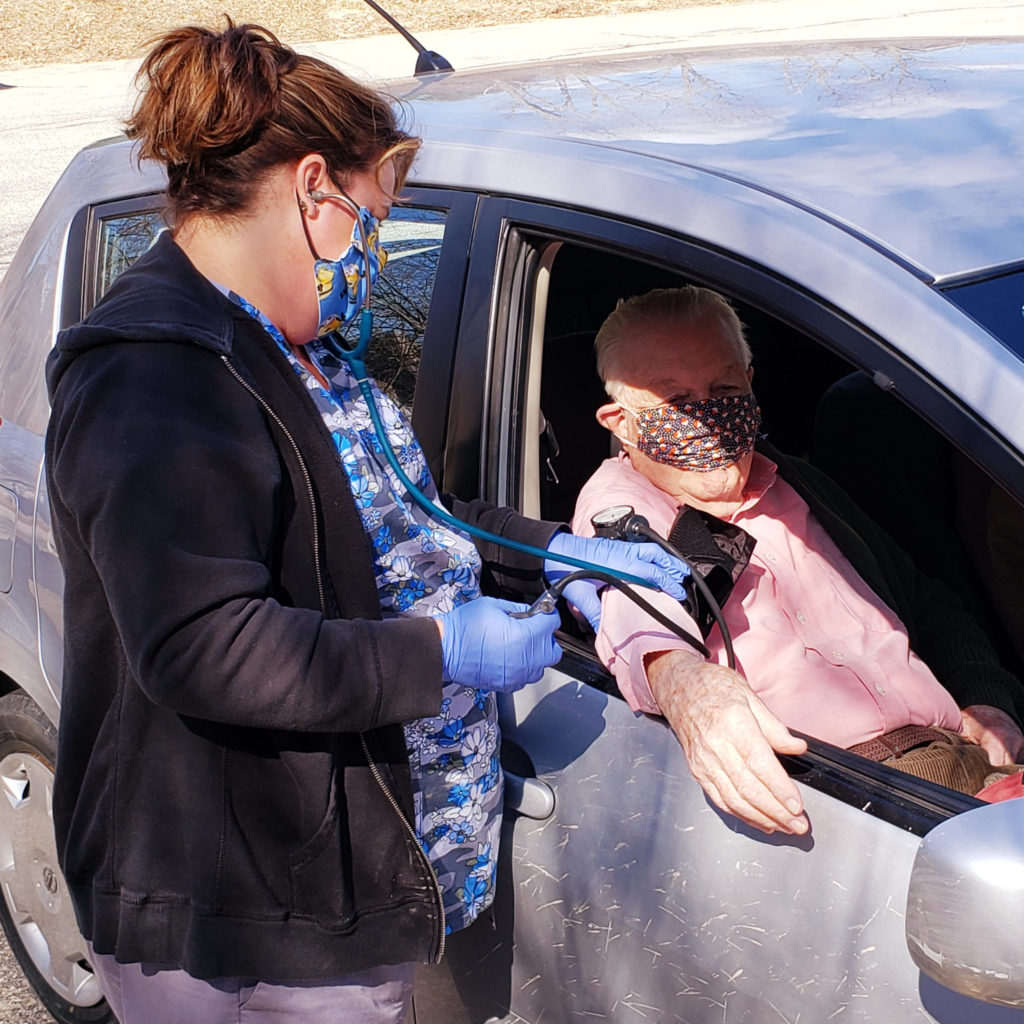 The Tamworth Community Nurse Association (TCNA) is the only skilled nursing service in the U.S. that provides its services entirely free of charge. Their office in the Tamworth Town Hall is currently closed but their visiting nurse services are in full operation and Tamworth residents may call to schedule an appointment with a TCNA nurse. Residents may also drop by 9am – 1pm on weekdays for a free container of hand sanitizer and then return for refills of sanitizer that has been donated by Tamworth Distilling. TCNA's loan program provides wheelchairs, walkers, canes and other equipment for as long as they are needed. Direct donations may be made here or checks can be mailed to TCNA, P.O. Box 352, Tamworth, NH 03886
Sacopee Valley Health Center service area includes the Maine towns of Porter, Parsonsfield, Hiram, Baldwin and Cornish; as well as Effingham and Freedom, NH. The Center remains open for walk-in care weekdays 8am – 5pm (Thursdays 9-5) for medical care, counseling and dental emergencies.
Whenever possible, appointments are being scheduled via video conferencing or phone
so clients can remain safely in their homes. To schedule a telemedicine or in-person
appointment call 207-625-8126, No one is denied access to services due to an inability
to pay. The Center accepts donations via PayPal, and checks can be mailed to 70 Main Street, Porter, ME 04068.

White Horse Recovery in Ossipee and Conway offers comprehensive secular and faith-based mental health services, substance use disorder programs, and ongoing recovery support programs. Their clinicians are serving clients remotely and they continue to offer staffed resource centers in both Ossipee (Mon-Fri 10am- 2pm) and Conway (Mon-Sat 10am-2pm). No one is turned away due to an inability to pay for services. Donations are accepted online or your check can be mailed to P.O. Box 487, Center Ossipee, NH 03814. Donations are particularly helpful right now due to the temporary closure of the White Horse Thrift Store in Ossipee.
Northern Human Services has mental health centers throughout northern New Hampshire, including Tamworth, Conway and Wolfeboro. They operate a 24/7 emergency help line (603-447-2111) and their counseling services are being offered via Zoom and phone. You can learn more about NHS services
and how to support the organization here.
Domestic Violence
The isolation and pressures arising from this crisis pose increased risks to survivors of domestic violence and those vulnerable to it. Starting Point in Conway can be reached 24/7 at 800-336-3795 for information, referrals and counseling provided by trained and experienced domestic violence advocates. Here is their link for online donations.
Other Links…
Tri-County Community Action in Tamworth is processing applications for fuel assistance. The State has extended the application deadline to May 29th. Call Angel Bean at 603-323-7400 for more information. Effingham Connect is an active Facebook group with interesting and useful posts about services, programs and other news from Effingham and surrounding communities. For educational and inspiring activities in and out of doors, keep in mind the GMCG Remote Learning Center is always there for people of all ages!
If you are on solid financial ground, please consider making a donation to one or more of these outstanding local organizations today.
We "salute" our caring neighbors!
"…Healthy Water, Healthy Communities!"