Less Plastic Challenge Winners!
Why up-cycle and reuse plastic? Every bit of plastic that has ever been created still exists. It poisons our oceans, food chains and water supplies. Single-use and disposable plastic packaging has a general use time of 10 minutes or less. Globally, more than 1 billion plastic bags are used every minute. There are many ways to start reducing and reusing plastic in your daily life, which is why GMCG encouraged students to take action and have fun with this challenge. All three winners received a cash prize and a gift basket from Tru Earth, makers of eco-friendly projects with no plastic packaging.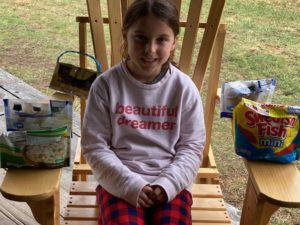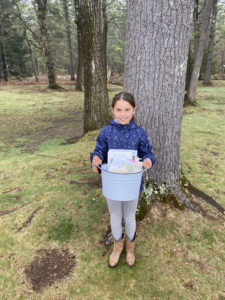 First Place Winner: Elsa Bartlett, 9 of Sandwich. Elsa made reusable bags out of single use bags such as Swedish Fish and rice bags. About the project, Elsa said, "I made these because I wanted to find a way that we could reuse these bags because we use so many of them in our everyday lives."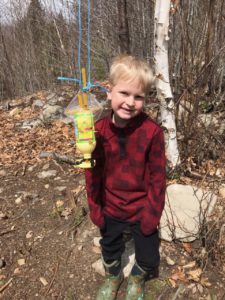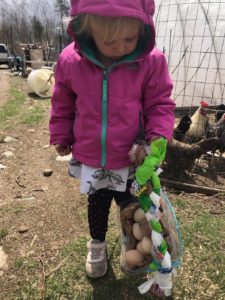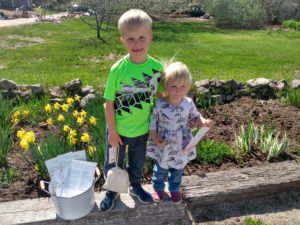 Second Place Winners: brother and sister duo Everett and Teagan Tufts of Stow, ME. Everett made a bird feeder out of a juice bottle and Teagan made a basket out of a salad green box and braided plastic bags for collecting eggs and woodland treasures.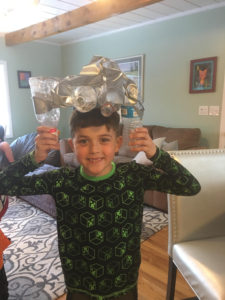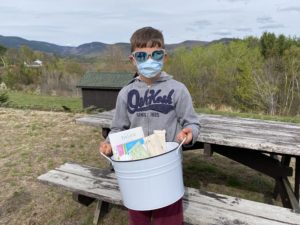 Third Place Winner: Luke O'Brien of Bartlett. Luke made a helmet out of plastic bottles that gives the wearer a super speed boost. Luke said, "it's made out of plastic because using plastic again helps the earth."
Earth Day 2021
A complete list of Earth Day activities, videos, and projects can be found here starting April 1st!
This year, Green Mountain Conservation Group (GMCG) will once again offer a safe way to celebrate Earth Day with an online lineup of fun science experiments, crafts, and educational videos. Programs will be available starting April 1st and can be found here and the GMCG YouTube channel. Children will learn what plastic is, how it's made, and how it can impact our environment and health. GMCG has many science experiments and activities about plastic available on its YouTube channel already. A complete list can be found here. Videos demonstrate how students can make their own bioplastic, design an up-cycled t-shirt bag, make upcycled plastic planters, learn about microplastics and conduct their own "landfill in a bottle" experiment. Teachers can also borrow award-winning films from their library to show in their classrooms, including "Bag It", "A Plastic Ocean", and "Straws." These educational films investigate plastics and can be followed with one of GMCG's Kahoot educational quizzes to help students process the films. 
If you watch any of our videos please fill out this google form so we can track education metrics for our AmeriCorps program. Education metrics will help us with our grant application so we can host future AmeriCorps members!
Activities
Play our recycling game made on Scratch! Try to sort the recyclables from the non-recyclables and maybe you'll learn something new about what to throw in which bin.
Want to learn about plastics? Watch this video put together by our Water Quality Resources Assistant Trent! Where do plastics come from? What is their impact on the environment? Find out here.
If you're looking for a story for youngsters, our Education and Outreach Assistant EB reading "One Plastic Bag" is perfect! This story describes the true story of women in Gambia up-cycling plastic bags into sellable items.
In this video, our Education Coordinator, Tara Schroeder, walks us through how to make natural deodorant. This project is better for the environment, our health, and allows us to use less plastic.
As the weather warms you may be interested in making a kite! These instructions will teach you how to take some common objects and up-cycle plastic bags into a fun spring toy.
If you want to learn more about our Less Plastic Challenge and ways you can up-cycle single use plastics, check out this video! Tara Schroeder highlights how to make plarn (plastic yarn) and other simple steps to reduce plastic.
These programs are part of GMCG's Less Plastic Initiative, funded by the Dorr Foundation and NH Conservation Moose Plate Grant Fund to investigate and educate about the effects of plastic in our environment.