Annual "Wonders of Water" Community Art Exhibition
September 20, 2022 @ 12:00 am

-

December 16, 2022 @ 12:00 am
The "Wonders of Water" art exhibition was created by GMCG as an opportunity to examine the relationship between people and water, whether it be salt or fresh water. This annual exhibition explores the myriad ways that water influences our lives and celebrates the beauty of water in the world around us. GMCG hopes to spur creativity among participating artists while reminding everyone of their daily, inseparable and indispensable relationship with water. This process of creation can be, for both participants and observers, a chance to explore the ways that water influences their lives, and to recognize its importance as a source of personal and community sustenance, spiritual enrichment, and beauty.
Thank you to the participating artists who continue to make this a rewarding experience for all involved.
A traveling banner featuring the 2022 "WOW" exhibition is on display at libraries across the watershed this fall. Come see it it person at the following locations:
Freedom Public Library: Sept. 14 – Sept. 28
Samuel Wentworth Library Sandwich: Oct. 3 – Oct.17
Cook Memorial Library Tamworth: Oct. 18 – Nov. 1
Madison Public Library: Nov. 2 – Nov. 16
Conway Public Library: Nov. 17 – Dec. 1
Ossipee Public Library: Dec. 2 – Dec. 16
2022 Virtual "Wonders of Water" Art Exhibition:
Several artists in the 2022 exhibition have offered their artwork for sale. If you are interested in purchasing one of the following pieces please email Moselle Spiller at outreach@gmcg.org.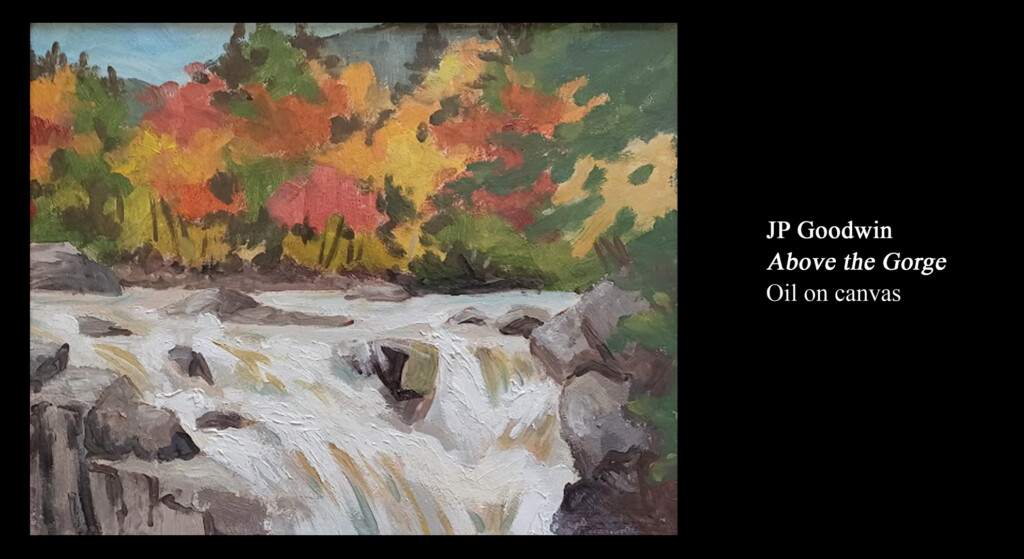 Artist: JP Goodwin
Title: Above the Gorge
Price: $175 (50% will be donated to GMCG programs)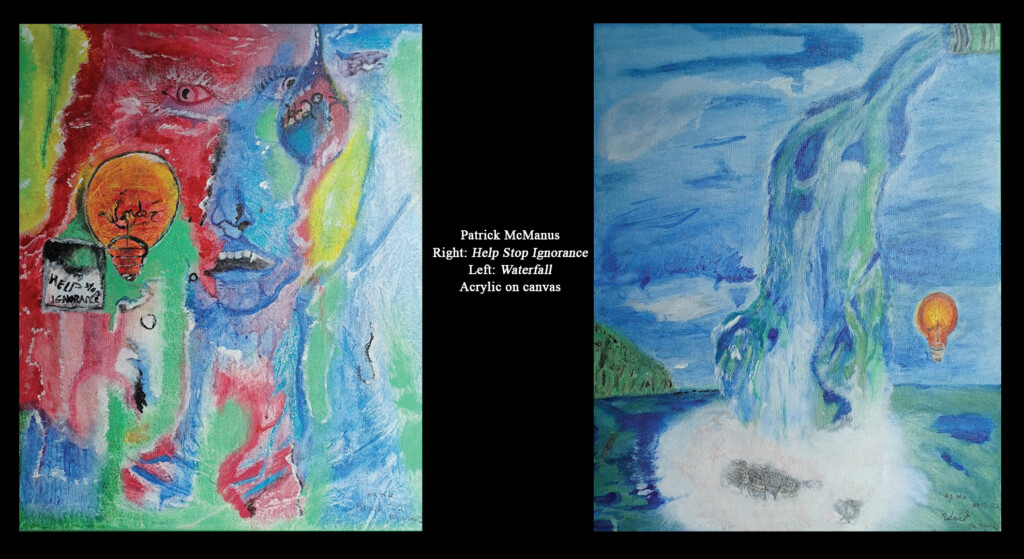 Artist: Patrick McManus
Titles: Help Stop Ignorance, Waterfall
Acrylic on canvas
2021 Virtual "Wonders of Water" Art Exhibition:
About the "Wonders of Water" 2021 Community Art Exhibition
Every year Green Mountain Conservation Group invites local artists of all ages and inclinations to join in the "Wonders of Water" ("WOW") annual community art exhibition to raise awareness and appreciation for the importance of clean water. Artists are invited to a celebration of all things water through art, poetry, performances, and any other creative expressions. All artwork submissions will be shared virtually in an online gallery on GMCG's website, and artists have the option of submitting their physical artwork to be included in a public showing. Digital artwork submissions are featured on a traveling outdoor banner to be displayed throughout the watershed through the fall.
Partners promoting the "WOW" exhibition include: Effingham Library; Freedom Library. Sandwich Library; Madison Library; Cook Memorial Library in Tamworth; and the Conway Library. GMCG is seeking more partners for 2021 and if you would like to help promote the event or hang the banner at your local business or organization please write to GMCG at info@gmcg.org.
GMCG's motto is "Healthy Waters, Healthy Communities." Since 1997 GMCG has worked to protect water through research, education, advocacy and land conservation.
2020 Virtual "Wonders of Water" Art Exhibition:
The 2020 Traveling WOW banner:
Thanks to our 2021 Partners:
Chocoura Public Library
Effingham Library
Sandwich Library
Madison Library
Tamworth Library
Conway Library