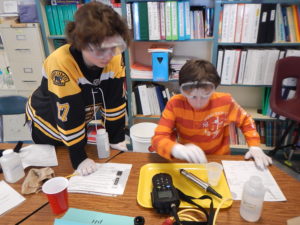 On Wednesday January 22nd from 1 to 4 p.m. Green Mountain Conservation Group (GMCG) will host a Groundwater Education through Well Water Evaluation and Testing (GET WET!) training session lead by Tara Schroeder for volunteers at the GMCG conservation center Blue Heron House located at 236 Huntress Bridge Rd, Effingham, NH.
At this training, participants will learn how they can volunteer to help bring this important drinking water protection program to local schools and libraries. Participants can bring in a sample of their home well water and test it for six parameters, including: chloride, conductivity, hardness, nitrates/nitrites, pH, and iron.
This training is for both new volunteers and for teachers and volunteers looking for a refresher course. This can be for both those who would like to help us plan new educational programs about the aquifer, and those who would like to visit schools and perform an educational class. Following the training, there will be time to ask questions and set the classroom schedule for the upcoming program.
The mission of GET WET! is to bring collaborative environmental research into the community through the classroom in order to understand local environmental changes and promote public health through safe drinking water. Students collect water from their home following a strict procedure and test for 6 different parameters, including chloride, nitrate, pH, hardness, iron and conductivity. After the initial testing day students participate in what is called a research day. During this time students analyze the results of their data collected on testing day, and prepare a presentation to be delivered to a community audience. The information gathered by students becomes part of a data repository by establishing a long-term town-centered monitoring program that can be used by the community to formulate productive choices in planning, management, and development. Student data is also added to a growing database managed on a GIS program (i.e., Google Earth).
Please register in advance by contacting education@gmcg.org or (603) 539-1859.
Anyone wishing to test their water at the February 13 program at the Madison Library should bring in a 500ml (~2 cups) water sample in a clean jar or bottle following these directions: 1. Remove aerators from faucet; 2. Run COLD water for 10 minutes (water plants or rinse dishes with it); 3. Fill bottle to the TOP & cap tight; 4. Place in refrigerator; 5. Bring to the workshop.
This program is made possible by generous support from the Pequawket Foundation.