Stephanie Barnes – Written by Susan Slack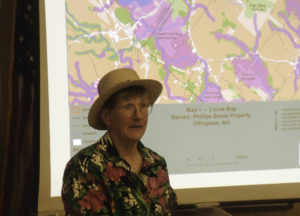 Stephanie Barnes, who has been a long-time friend of GMCG, died unexpectedly September 25, 2018, after having a stroke. We last saw Stef at the special evening for donors at Blue Heron House in July. She loved how the building and site had been rehabilitated and was excited about the great possibilities it affords GMCG to educate Ossipee Watershed residents about the natural world.  Not only did Stef support our Blue Heron House efforts, but she was the energy and support behind GMCG's acquisition of the Phillips Brook property on Green Mountain Road in Effingham, about 95 acres of forest and wetlands that GMCG now holds in fee.
Stephanie was a strong supporter of several local conservation efforts, including a parcel on Townhouse Road in Effingham, and projects shepherded by NH Audubon, The Nature Conservancy and the Forest Society.  She had a particular affinity for protecting wetland habitats.
Stef was a physician who worked at Huggins Hospital and lived in Wolfeboro for many years before building her house in the woods of Green Mountain near the Ossipee River in Effingham. She and her partner Barbara moved back to Warren, Vermont about 2 years ago, near where she grew up.  According to Barbara, Stephanie didn't want any sort of memorial service, but perhaps we can take a minute to think of her walking in the woods on Green Mountain with her dog Sage and honor her long support of GMCG's conservation efforts.
A CONSERVATION PIECE
In quiet woods I do find peace,
A subtle loosening of the leash
That tethers me to fleeting life.
That selfsame leash with age brings strife.
I own these woods by man made law
That seems to me a fatal flaw.
I gave these woods to bird and bear,
To squirrel and vole and snow shoe hare.
I walk these woods no longer mine
Through stately beech and oak and pine.
Mankind brings little peace to me;
I find it with the stately tree.
Stephanie Barnes, February 12, 2012
Esther Folts –  It is with both a heavy heart and with deep blessings that we write to let you know that Esther, Blair's Mum, passed away on Sunday October 22, 2017 at noon.  Esther had been diagnosed with metastatic lung cancer in May.  She was fortunate to have had a chance for some experimental treatment that helped her to remain clear mentally and she was not in pain nor was she on any major medication.   This was a complete blessing for her.
Despite struggling with her breathing she did manage to learn to use a walker and her oxygen tank and even up until a week before her death, was optimistic about switching to a more usable oxygen system so she could get out more.  Her close friends know it was a struggle for her to remain in her home and know that she was so grateful to move into the apartment at Fresh Pond in September where she once again was able to get outside and get about on her own from her apartment to meals and to her sweet bench by the Pond where she walked for decades.
She rallied during the summer and was able to be on the Vineyard with her son Franklin, daughter-in-law Helayne and granddaughter Samantha, and Uncle Bill and Rita in June and was able to be in New Hampshire in both July and August with Blair—two places she adored.  She was also so grateful to Bill Huckins for his nightly calls to her that allowed her to vent her frustration and sadness with her disease and to also joke with him up until the very end.
In her passing, she was completely coherent and though she could no longer speak she was able to still joke by mouthing her words.  She was also able to visit with distant family and friends via the phone and was smiling and even laughing as she spoke to granddaughter Samantha who promised to always remember her favorite spot at State Beach on the Vineyard.  She was given medicine at the very end to help her breath better.  Bill and Blair were by her side while she gently passed away.  They prayed for her to "go to the light" and her gift to them was to pass at exactly noon on October 22.  She was so blessed by such a rich long and healthy life.   Read more about her Green Mountain Conservation Group support and participation. Click Here
Ned Hatfield – July 25, 2017 – The watershed has lost a great steward with the recent passing of Ned Hatfield. Ned was a dedicated GMCG volunteer starting back in 2000 when the tributary monitoring program began and he adopted a stream site. Ned was also our go to scientist for VBAP with the elementary schools. He inspired many student citizen scientists with his passion and had a gift for getting them excited about macroinvertebrates, how to identify them as well as teaching them the important role …they play in our ecosystem. Ned will be missed by many and we are grateful for all of the important work he has done inspiring others and protecting the water quality we rely on.
The twinkle in his eyes made everyone at ease and comfortable in his presence, and let you know he was about to make you laugh. The family will see his spirit soaring with the dragonflies across our meadow.
Blessings to Ned's family and friends.
March 23, 2016:  It is with a heavy heart that we bid farewell to Patricia (Petey) Watts of Freedom, NH and Boston, MA.  Patricia and her late husband Charlie (Charles Henry Watts II) were instrumental in the inspiration that formed the Green Mountain Conservation Group (GMCG).  Following the passing of her husband, Patricia continued to be a strong voice of support for land conservation, youth environmental education and water quality preservation.  She was a friend and a mentor to GMCG and had a long time commitment to the communities of the Ossipee Watershed.
More recently, Patricia made a lead gift to help jump start the Heron House Building Fund that is enabling GMCG to begin restoration on that property for our new headquarters.  This wonderful property is located on the Ossipee River and will be named the Patricia and Charles H. Watts II Conservation Center.  Patricia enjoyed many fine days on the Ossipee River as a young woman. Listening to the flow of this winding River will remind us of her generous and loving spirit forever. Our thoughts are with the Watts family.
To donate in Patricia and Charlie's name to the Patricia and Charles H. Watts II Conservation Center at Green Mountain Conservation Group CLICK HERE.
Mrs. Gladys B. (Blanchette) Brown, a resident of Effingham, NH, formerly of Andover and beloved wife for 64 years to the late E. Stanley Brown Jr., died on Thursday evening May 22, 2014. She was 86 years old.
Born in Lawrence on January 7, 1928, she was the beloved daughter of the late Wilfrid and Yvonne (Pellerin) Blanchette. Mrs. Brown was the operator of her "Farm Cottage" at her home in Effingham, was a graduate of the Verper George School of Art with studies in Fashion Illustration in Boston. She enjoyed painting still life and flowers from her gardens and also monoprints. Gladys was past President of the Andover's Artist Guild, 1983 and a member of the Rockport Art Association, New England Watercolor Society, Portland Maine Museum of Art, and the Mt. Washington Valley Art Association.
She has done further studies in watercolors in workshops in Maine, New Hampshire and Massachusetts with nationally known artists.
Gladys was also an active member of the Remick Country Doctor Farm Museum, Lakes Region Humane Society, Green Mountain Conservation Group and the Society for the Protection of NH Forests. Her love of historical artifacts included member activities to the Ossipee Historical Society, Effingham Historical Society, Andover Historical Society and the Effingham Preservation Society.  She also enjoyed gardening around her "Farm Cottage" home.  Above all, Gladys was a very loving and devoted wife, mother and grandmother.
"Gladys was one of GMCG's first supporters. Not only was she passionate about protection of the aquifer and land that supported our water resources, but she was also a mentor and a friend to me in the early years of founding Green Mountain Conservation Group," said Blair Folts Executive Director of GMCG.  "Gladys was also a fellow artist and we shared many a conversation about the creative process and the complicated process of finding balance with painting and still giving back to our community.  I miss her but her sweet smile and encouraging words will always be with me during difficult times." 
Marion Cleveland Cohen
Marion Cleveland Cohen passed away on February 21 at the age of 87.  She was the daughter of Francis Grover Cleveland and Alice Pardee Erdman who founded the Barnstormers Theater in 1931.  Marion summered in the area her whole life and moved to Tamworth full time in 2008.
Marion was a strong supporter of the Green Mountain Conservation Group and dedicated to land conservation. Not only did she place a conservation easement on her Tamworth property but she also worked hard to help conserve the Birches Intervale Farm in Wonalancet through a conservation easement.  She was such a spark of life and laughter across the watershed and her sweet smile will be greatly missed.
Joan Thompson Gilmore
Joan Thompson Gilmour, 79, of South Tamworth, and Naples, Fla., died peacefully with her family around her on Jan. 18, 2014 in Manchester following a brief illness.
 Born Sept. 25, 1934 in New York City to Charles Goodrich Thompson and Alice Bemis Thompson, Joan graduated from the Brearley School in New York and attended Smith College.
 Joan moved to South Tamworth in 1990. Continuing a lifelong avocation, she beautifully renovated an old house, where she lived until her death.  She was a founding member of the Tamworth Civic Association and the Civic News, to which she also contributed articles and drawings, including the mountain sketch that still heads each issue. One of her greatest pleasures and honors was serving on the Board of The Tamworth Foundation from 1999 to 2008. Known for her creative bent and tireless energy, she was also active with The Barnstormers Theatre, helping coordinate their annual summer auctions over many years.
 She was a very active Green Mountain Conservation Group member in the early years and provided much guidance on early advocacy campaigns.
Charles Waldo Smith "Bumps"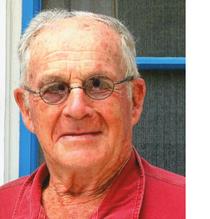 Born in Lincoln, MA, June 4, 1927, Mr. Smith (Charlie) died peacefully in his home January 16, 2014.
He was the son of Sumner Smith and Alice Wiggin Smith of Lincoln, MA. He attended Phillips Academy, Andover MA and Yale University, New Haven, Conn. Charles served in the Armed Services stationed in Germany from 1945-1947. He taught English and coached hockey at Taft Preparatory School, Watertown Conn. and Belmont Hill School, Belmont MA.
In 1962 he returned to his alma mater, Phillips Andover, as an administrator. In 1973 he moved to New Hampshire and worked at Bradley's Garden Center in Wolfeboro, NH with an old classmate, William Rome. During this time he settled in the Granite area of Ossipee.
After his retirement he was very active in many local organizations including the New Hampshire Farm Museum, Milton, NH, the Community School, Tamworth, NH, the Society of Preservation of New Hampshire Forests, Green Mountain Conservation Group and many other local groups.
The Granite area knew him best for his beautiful vegetable and flower gardens and the management of his land and Green Mountain Conservation Group (GMCG) staff and volunteers knew him for his passion for water quality protection particularly the protection of the extensive Ossipee Aquifer.  He always had a positive word to say about even the most difficult project and was a source of inspiration for the staff at GMCG. It was also a treat and pleasure to spend time in the woods with him to share in his extensive knowledge and passion for forestry.  May his spirit continue to inspire us all.
Ted Smith
1941-2012
On September 1, Ted Smith, one of New England Grassroots Environmental Fund and more recently Clean Air-Cool Planet's founding board members, died in a tragic accident, hiking the mountains he loved near his home in Polson, Montana.   I first met Ted Smith in 1999 when he and I served on the New England Grassroots Environmental Fund board of directors.   He was the executive director of the Kendall Foundation then and was one of the first foundation leaders to support GMCG as we were developing.   He was a pioneer then in promoting education about watershed conservation work.   His death in a hiking accident in his beloved Montana has left a huge gap among those who work to protect this planet.   For those who had the privilege to know Ted and to work with him, the loss is also deeply personal.   I am particularly grateful that I was fortunate enough to spend the day with him at last year's Pioneers Conference where we were able to share many thoughts about the environmental challenges that we are currently facing.
He will be missed but I am sure all his wonderful work will continue to inspire so many conservation projects.   Rest in peace my friend.
Blair Folts