The plan to address toxic cyanobacteria blooms in New Hampshire
By Tara Schroeder
Unfortunately, cyanobacteria blooms have become more common and more troublesome in the Ossipee Watershed in recent years. As I write this article, Province Lake and Pine River Pond have already had their first cyanobacteria advisories of the summer, and GMCG is getting ready to work with Friends of Danforth Pond to address their cyanobacteria bloom issues through a grant from the New Hampshire Department of Environmental Services (NHDES).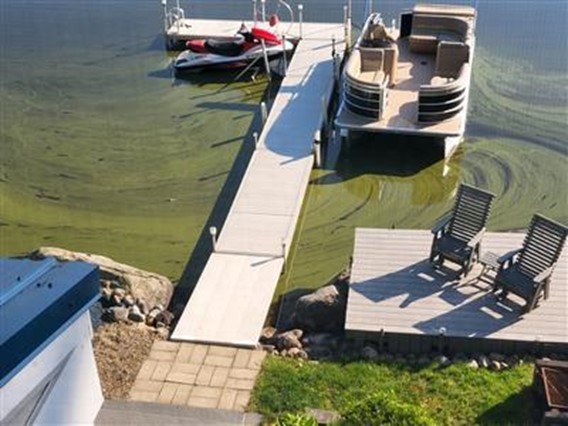 Cyanobacteria is natural, so what is the problem exactly? An excess of the nutrients phosphorus and nitrogen cause cyanobacteria to bloom. Climate-change related warmer water, shorter winters and stronger rainstorms also contribute to cyanobacteria blooms. Cyanobacteria can produce toxins called cyanotoxins that pose a threat to humans, pets, livestock and wildlife. These can kill organisms and bioaccumulate in the food chain in addition to causing liver and kidney damage in humans. These blooms are often unsightly and can be smelly, too. They hurt local economies by disrupting recreation, drinking water systems, property values and fishing. Lakes with consistent blooms experience a decrease in property values by 20-23 percent.
While historically blooms in water bodies dissipated after two to three weeks, many lakes in New Hampshire are experiencing prolonged blooms in recent years. For example, Tucker Pond in Salisbury experienced their first bloom in 2019 and their advisory lasted 14 days. In 2020, the bloom and advisory lasted 132 days; in 2021, 57 days; and in 2022, 100 days. Not only were these blooms longer lasting than the typical 2-3 weeks, but they were also "putrid-smelling," according to Douglas Darling, chair of the recently formed Cyanobacteria Advisory Committee for NHDES. Because the toxins can be aerosolized, "you shouldn't even be kayaking while there is a cyanobacteria bloom," Darling says In Tucker Pond, 63 percent of the phosphorus loading comes from stormwater runoff and 22 percent comes from septic systems, so their blooms can be addressed by watershed planning and best management practices to reduce external loading.
David Neils, chief aquatic biologist at NHDES says the state needs to be proactive about cyanobacteria. House Bill 1066 requires NHDES to prepare a plan and establish an advisory committee to provide input on actions to address blooms and their impacts. The bill passed in 2022 because of strong public support. According to Neils, "stormwater is the greatest nutrient contributor to our lakes and ponds" and "the focus needs to be on watershed sources and land use practices." Neils represents NHDES on the advisory committee and is working with representatives from 16 other organizations on the committee to draft a plan which will be ready by early July 2023 and sent to the governor by November. Among the elements of the plan will be an improved reporting and communication system, already available for use (see link below). Other initiatives focus on outreach and education with the development of materials and messaging, in-lake management guidance and policies, and an emphasis on nutrient reduction and control.
Currently NHDES has just one person dedicated to tracking blooms for the 1,000 lakes. Towns, lake associations and watershed organizations represent the best pathway forward to address these blooms through watershed planning. When ponds or lakes are experiencing blooms it is important to get the word out to residents to prevent exposure and illness. For more information, see the NHDES Harmful Algal Bloom webpage and Frequently Asked Questions. The site also includes the Healthy Swimming Mapper to alert people of blooms and beach advisories in real time and a standardized reporting form for individuals to report a bloom. Finally, people can sign up for weekly updates to receive more details for a specific waterbody. All of these resources can be found at: https://www.des.nh.gov/water/healthy-swimming/harmful-algal-blooms
Photo: Cyanobacteria bloom on Province Lake June 1, 2023. (Source: Healthy Swimming Mapper by NHDES) https://experience.arcgis.com/experience/180c28fa3a4c4371a9771d999454e8c4/)