Monday Memories 
Post 6,  June 5, 2017
 Hello All:
"1998 was a busy year" 
We were approved for our 501 c 3 in January of 1998 and received our very first grant award from the New England Grassroots Fund for $2000. With a diverse Board of Directors, seed money and a host of challenges facing the Watershed, GMCG began to host monthly educational meetings, created the Watershed News—our quarterly newsletter, and began to advocate for natural resource conservation across the area.  CLICK HERE for the very first NEWSLETTER
Not only were we dealing with the proposed Effingham racetrack, but there were also other challenges in the Watershed that included liquidation logging versus sustainable forestry, "sludge" spreading and impact on ground water, water extraction and erosion from rampant and un-monitored ATV use to name just a few.   As a new organization with a new board from all different towns, it was interesting and rewarding to watch people come together across political boundaries because everyone knew that our shared natural resources do not know these man-made division lines.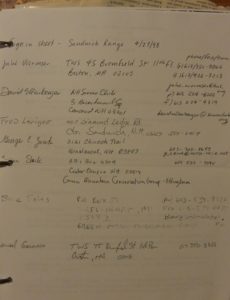 Personally, I was very inspired to see that people from Sandwich were interested in what was going on in Freedom and that folks in Effingham also were concerned with what was going on in Madison. Watershed Awareness was unfolding. 1998 was filled with learning for me. I had never used a computer and yet had to create that first newsletter—quite a learning curve full of laughter and tears! Neighbors called to tell my phone was "tapped" and others accused me of being "backed by the UN" which I found hysterical until I realized they seriously were concerned about this. With each new workshop or community meeting, we met more and more different and community-committed folks. Larry Leavitt, who was from Effingham came and knocked on my door one day and said "I know you went home crying last night kiddo but we want you to know that we all support the efforts that GMCG is making to provide education and outreach. Hang in there."
Wonalancet resident George Zink, who was a strong leader in the conversation community at the State level, came up to me at one meeting and handed me a tiny scrap of paper from an envelope with Dr. Robert Newton's phone number on it and said "hey, you have to meet this man—he will help you with research and with a better understanding of how the aquifer was made." Bob Newton became one of our key research partners.
Youngsters from Effingham Jill and Elena Piekut, trained early with GMCG and later went on to work for the organization when they were in college. At 11, Elena wrote for that first Newsletter in her column "The Young Sapling."  Her younger sister Jill, overheard her parents talking about "the aquifer." She took her mashed potatoes and said, " ok, so the butter on top is like a lake and a little ribbon of a stream, but if I flip it over then it is the aquifer, right?"
Each week brought new ideas, people and concerns to one table. With each gathering more and more residents, visitors and municipal officials began to understand that even though this area did not have the big visible giants such as Lake Winnipesaukee or Mount Washington, we had something much more crucial—this large expanse of underground drinking water…….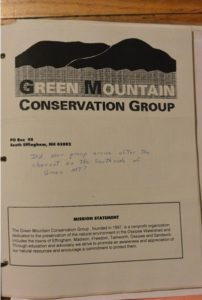 In celebration of Green Mountain Conservation Group's 20th Birthday (May 1, 1997-May 1 2017) we will be posting Memories on Mondays in May through September on the GMCG Facebook page and on our website www.gmcg.org.  If you would like to be part of this journey please "like" Green Mountain Conservation Group on our Facebook page. We are trying to raise funds for our new home—-The Patricia and Charles Watts Conservation Center also known as the Blue Heron House on the Ossipee River and expansion of staff needed to run our programs. We are doing this online through this campaign by asking you to consider a gift of $20 in honor of our 20th Birthday. Do you have a connection to the Ossipee Watershed? Did you know a former staff person or Board member over the past 20 years who you would like to honor? Can you also invite your own friends and families who have connections to this Watershed or a specific person and ask for a contribution too? Please feel free to forward our posts and information. THANK YOU.
Donations can be made to : CLICK HERE
Each gift of $1000 raised in a specific person's name will honor that person with a plaque on a rocking chair. For example—if you send in a donation of $20 in a staff or previous board member's name, that will be tracked and recorded as a gift to honor that specific person. If you can help by inviting 50 friends to do the same then you will have helped raise $1000 and that person and you will have your name on one of our porch rocking chairs.
Thank you!


Blair Folts, GMCG Executive Director
To access previously posted 20 Years of Memories, look to the right hand margin.