MONDAY MEMORIES
POST 3, MAY 15, 2017
Hello All
TODAY:   What is this big stratified drift aquifer?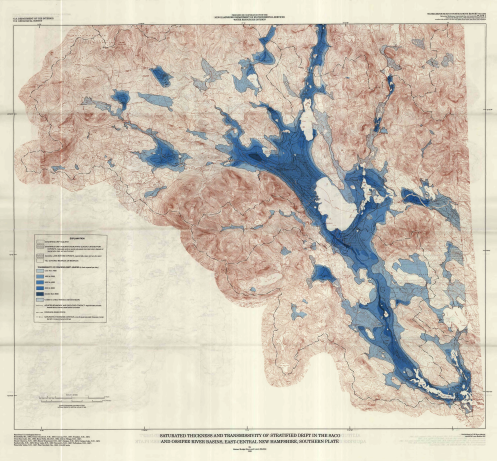 So now we had a name and a post office box.   We continued to meet at different kitchen tables and while we did this we began to learn more and more about the important natural resources particularly the water resources. Not only were there all these ponds, streams, rivers and lakes, but we learned about the large stratified drift aquifer. I specifically remember Stan Drelick in Effingham, bringing a USGS map of the "ground water resources" to one kitchen-table meeting. As an artist, this had a particularly strong impact on me visually and I remember feeling almost "dizzy" when I grasped what I was seeing. He had a black and white and blue map. I was looking at the Pine River, Lovell River, Bear Camp River and Ossipee Lake and they were WHITE. But all across the map and under the waters I knew was this huge swatch of BLUE. "What is that," I asked. It was and is the largest stratified drift aquifer in NH and one of the larger ones in the north east.
In that moment what came to me was that even though this area does not have Lake Winnipesaukee or Mount Washington or Sebago Lake, we have something even more important — this huge stratified drift aquifer.
So what is a Stratified Drift Aquifer and how does it recharge?  CLICK HERE for 13 page brochure explaining the Ground Water Resources in New Hampshire: Stratified Aquifers.
Our first tshirt came from this USGS publication that showed the entire Aquifer.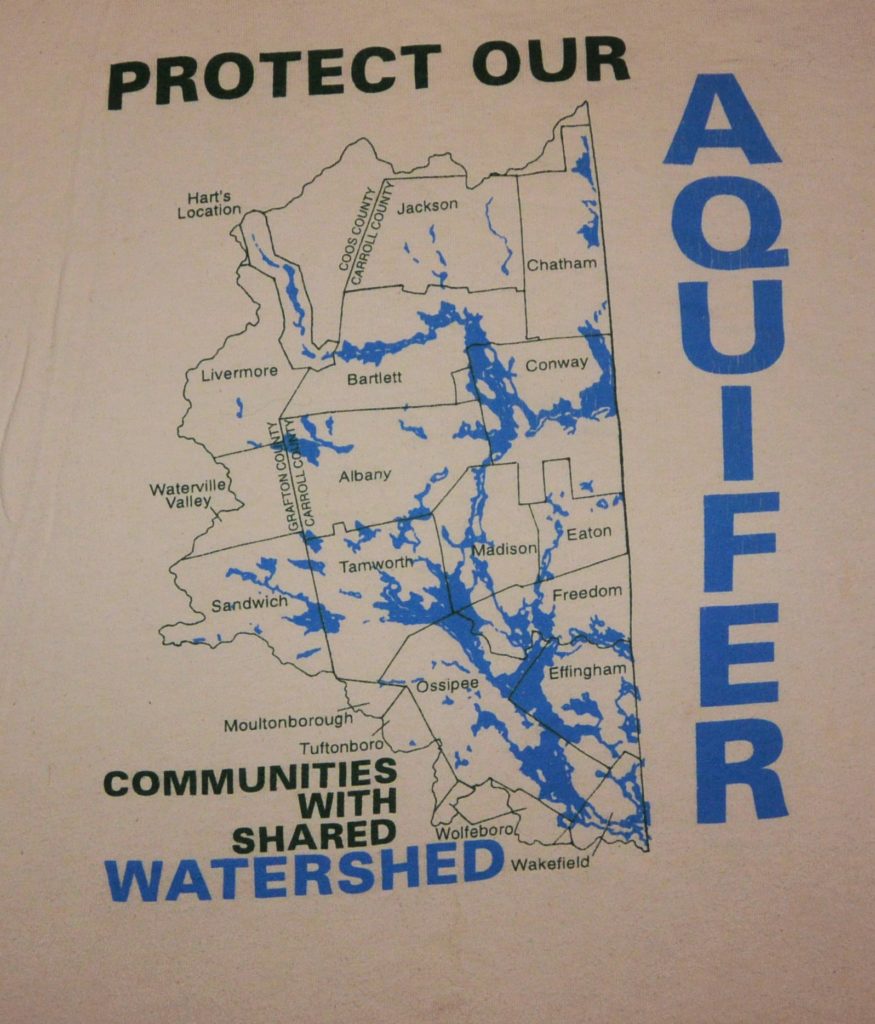 Here is some information shared by one of our key partners over the years, Dr. Bob Newton, Department of Geology, Smith College:
The Ossipee aquifer is the largest stratified drift aquifer in the state of New Hampshire. It provides abundant, clean, groundwater to most businesses and residents living within its boundaries. We take for granted that this resource will always be there, but continued land development poses a direct threat. It is perhaps best to visualize the nature of this threat by considering how the aquifer is recharged.
    Groundwater moves through aquifers from high areas of recharge to low areas of discharge. Recharge areas are places where water enters the aquifer via infiltration through the ground. For recharge to occur there must be permeable soils and the water table must be below the land surface. Recharge is episodic. It occurs during rainstorms and snowmelt events. A major recharge event will introduce a lot of water into the aquifer and most of this will, initially, be stored as groundwater within the recharge area, as reflected by a rise in the water table.   In time, this newly infiltrated water moves as groundwater flow, away from the recharge areas, through the aquifer system, towards the discharge areas.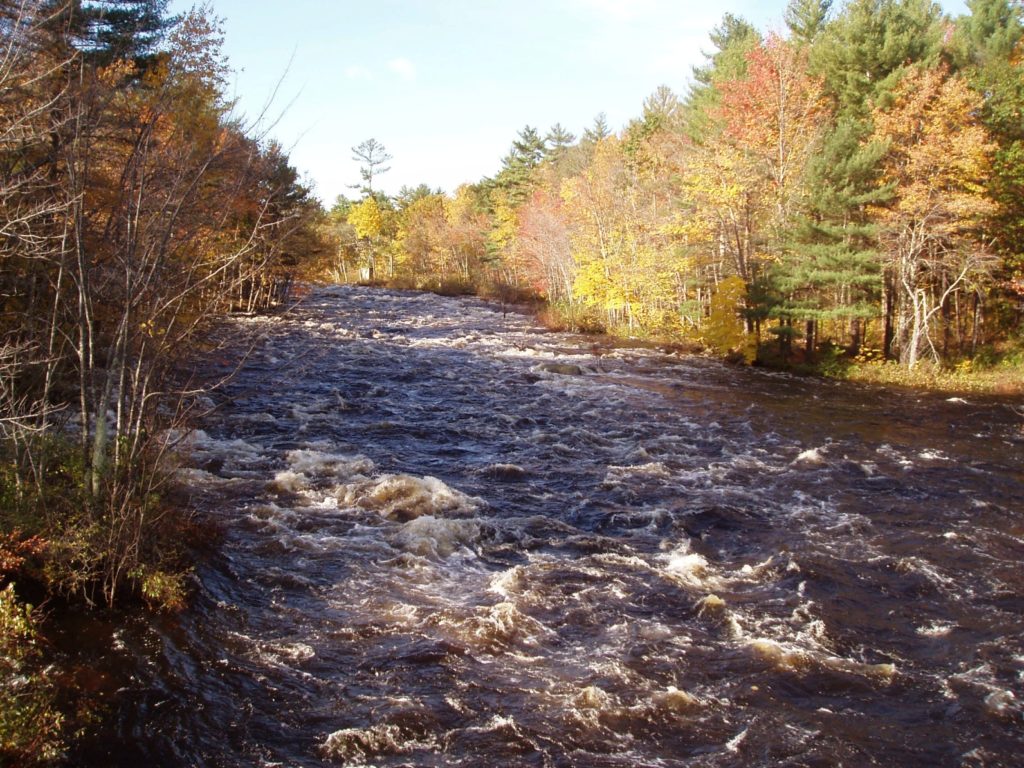 Groundwater discharge occurs at lower elevations where the water table is at or near the land surface. Groundwater discharge occurs through seeps, springs and direct discharge to both lakes and streams. Direct discharge of groundwater to streams is called baseflow.
During dry periods, all of a stream's flow is provided by groundwater entering the stream through baseflow.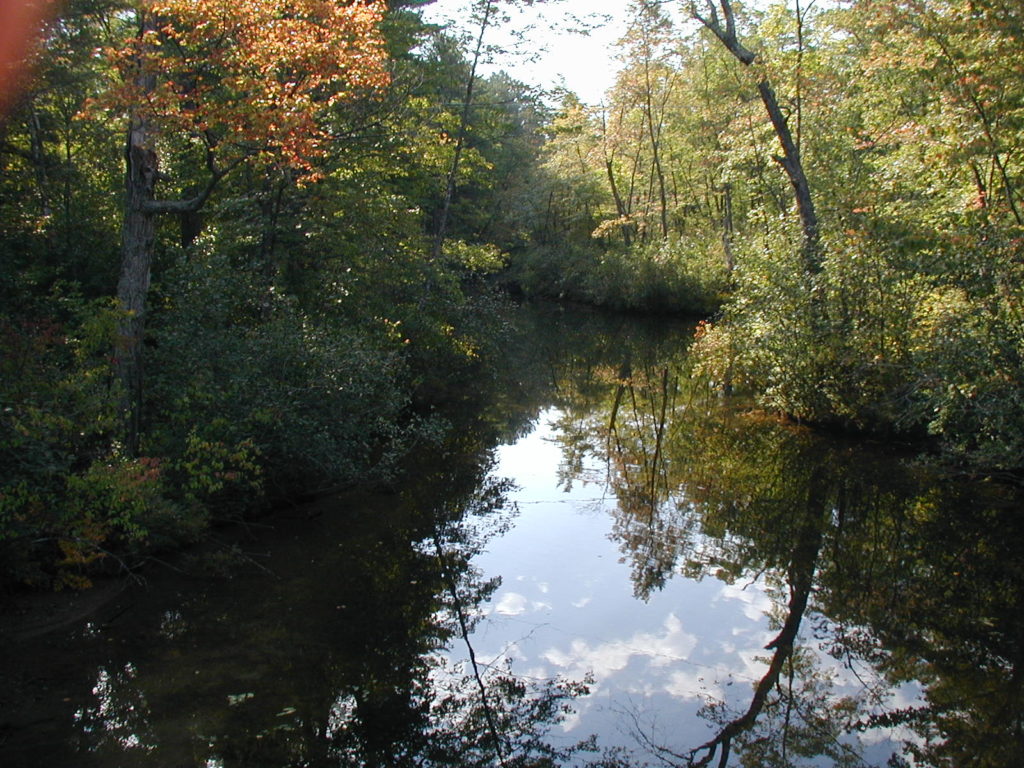 Groundwater flow is controlled by gravity or simply stated; groundwater flows downhill. What this means is that the recharge areas will always be higher than the discharge areas and lakes and streams will often be in the discharge zone as they are generally the lowest places in the landscape.
……….. With proper planning and protection of recharge areas, the area can grow and prosper into the future.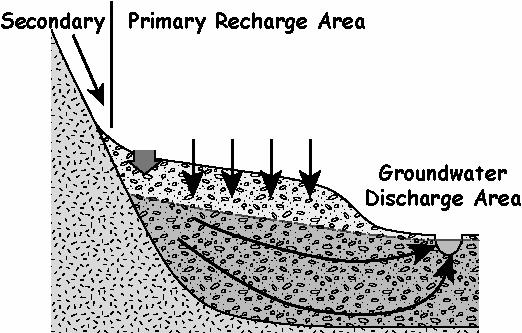 Water entering the primary recharge area infiltrates downward to the water table, enters the groundwater system and flows toward the discharge areas. Water runs from the secondary recharge area to the primary recharge area where it also infiltrates into the aquifer.
In celebration of Green Mountain Conservation Group's 20th Birthday (May 1, 1997-May 1 2017) we will be posting Memories on Mondays in May through September on the GMCG Facebook page and on our website www.gmcg.org.  If you would like to be part of this journey please "like" Green Mountain Conservation Group on our Facebook page. We are trying to raise funds for our new home—-The Patricia and Charles Watts Conservation Center also known as the Blue Heron House on the Ossipee River and expansion of staff needed to run our programs. We are doing this online through this campaign by asking you to consider a gift of $20 in honor of our 20th Birthday. Do you have a connection to the Ossipee Watershed? Did you know a former staff person or Board member over the past 20 years who you would like to honor? Can you also invite your own friends and families who have connections to this Watershed or a specific person and ask for a contribution too? Please feel free to forward our posts and information. THANK YOU.
Donations can be made to GMCG Anniversary: CLICK HERE
Each gift of $1000 raised in a specific person's name will honor that person with a plaque on a rocking chair. For example—if you send in a donation of $20 in a staff or previous board member's name, that will be tracked and recorded as a gift to honor that specific person. If you can help by inviting 50 friends to do the same then you will have helped raise $1000 and that person and you will have your name on one of our porch rocking chairs.
Thank you!

GMCG Executive Director
To read the May 1, 2017 post, CLICK HERE
To read the May 8, 2017 post, CLICK HERE