*Notice*
Public Hearing  – Tuesday May 9, 2017 at 7pm
Carroll County Superior Court has issued a Court Order for a Motion to Remand to the Ossipee Zoning Board of Adjustments to hold a Public Hearing on the case listed below:
 Town of Freedom: Board of Selectmen – per RSA 677:2 previously filed a Motion for Rehearing from the Ossipee ZBA's denial decision of 10/08/2016, for Administrative Appeal of the Planning Board's approval decision of Case #16-3-SPR – Northgate Ossipee, LLC for Westward Shores Campground and Resort, Site Plan Review on September 20, 2016.
Westward Shores Campground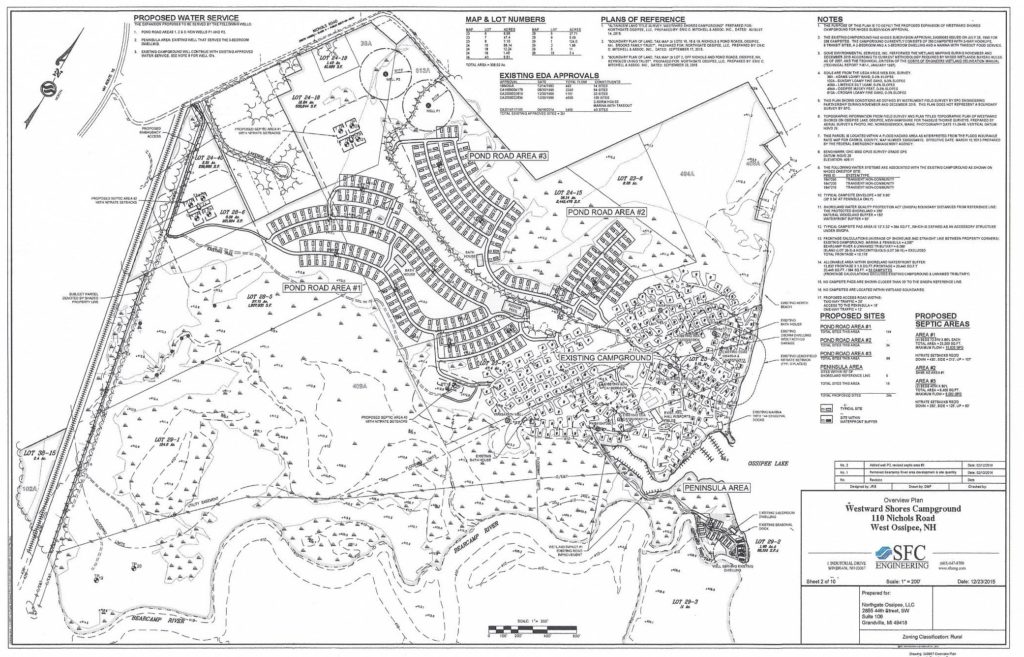 Please help protect the Bearcamp River Delta
Over the years, Green Mountain Conservation Group  members have followed our promotion of best management practices (BMPs) and planning for growth using natural resource based planning when it comes to large scale developments. The current proposal before the Ossipee Planning Board by Westward Shores Campground is entirely in the floodplain and could have negative impact on important water resources.  Northgate Ossipee LLC owns the campground and has submitted plans to expand from 258 to 522 sites.  GMCG is concerned about this expansion due to the vulnerable wetlands, shoreland and floodplain that is the Bearcamp River Delta.
The proposed development in the area known as "The Peninsula" is in the Bearcamp River floodway.  According to FEMA, The floodway is the channel of a stream, plus any adjacent floodplain areas, that must be kept free of encroachment so that the 100 year flood can be carried without substantial increases in flood heights. Also according to FEMA, "Ossipee Lake has a 10% annual chance of reaching 412.2 feet" and a 1% chance  of reaching  414 feet  (100 year flood) which is the entire property.
There has been a lot of misinformation circulating which has added to the confusion of who is supporting the project and just how many sites will be added. GMCG has not "partnered" with anyone on this proposed expansion. As always, we are willing to listen and to share our concerns about water quality and impacts on natural resources.
Discussion of this project has also revolved around the definition of "campground" and "temporary structures."   When laws like this were crafted, they were created for primitive campgrounds with tent sites and grassy pads. What do we do when "temporary structures" are "permanently" installed on pads that are 12' x 32'?  Yes, we are told they will be on gravel pavers which are considered "permeable" and allow water to absorb into the ground and not run off. But some sites will be located 20 feet from the water and it is hard to guarantee that there will be no runoff or further sediment loading into Ossipee Lake.  What is the best way to protect the water quality in the Lake and on the Bearcamp River?
The other concern is in regard to the hooked up septic systems.  Even if the main water is turned off to most of the campground during the winter and visitors are "not allowed to use them in the winter," the septic systems will remain installed.  What will happen when spring flooding occurs and these temporary structures may be lifted off their wheels for a few inches or feet?  What happens when the road to the peninsula area, where 18 structures will be located, floods and the septic lines are compromised by the floodwaters and debris that comes with it?  What does one say when a temporary structure is permanently installed in the floodplain? Shouldn't we all be questioning how this is going to work from a water quality perspective?
GMCG has been monitoring the water quality of the Bearcamp River and Ossipee Lake for over a decade.  We have continued to be in a constant battle with declining water clarity and increased phosphorus. For years we have advocated for BMPs on any property that is eroded, or undergoing development or expansion. And we have been  distributing information about the proper care of septic systems.
The proposal to expand the Westward Shores Campground to 522 sites in the floodplain and parts of the floodway is NOT good planning.  This is a huge delta.  The Bearcamp River floods almost every year as it receives drainage from the White Mountains and a huge land area upstream.  This delta is also important recharge to the aquifer. Ossipee Lake is already under stress from over use on busy weekends and does not have  adequate Marine Patrol enforcement on summer weekends.  Is it good business sense to max out such a parcel and possibly harm the most important tax resource not only in Ossipee but in Freedom and Effingham?
Granted abutter status because the expansion has regional impact, Freedom's leaders say they want to present testimony about the potential negative impact on water quality. On September 20, the Ossipee Planning Board granted conditional approval for the expansion after denying Freedom's request for more time to study a newly submitted engineering report by Jones & Beach, and revised plans that were presented that night with no opportunity for public review.
Click here for brief video of flooding on Westward Shores pennisula April 18, 2017 – normal high water from spring snow melt
Click Here to read more….. "Ossipee Lake Alliance article on Ossipee Planning Board Approval for Westward Shores Campground" 10/3/2016
Click Here for "Conway Daily Sun Article on Conditional Approval for Westward Shores Campground" 9/29/2016
Click Here for "Carroll County Independent article on Conditional Approval for Westward Shores Campground" 9/29/2016
Click Here for "Freedom Board of Selectmen letter to Ossipee Planning Board" 9/30/2016
Click Here for "GMCG letter to the Ossipee Planning Board" 9/19/2016
Click Here for "Saco River corridor Commission letter to the Ossipee Planning Board" 9/15/2016
Click Here for "Ossipee Lake Alliance Asks for More Flood Data Before ruling on Westward Shores"
Click Here for recent letter written by the Ossipee Lake Alliance of Freedom NH – 7/14/2016 regarding flood information and concerns.
Click Here for a letter written by the Loon Preservation Committee of Moultonborough NH.
Click Here for a letter written by the New Hampshire Department of Environmental Services, Concord, NH.
Click Here for a letter written by the Ossipee Lake Alliance of Freedom, NH.
Click Here for a letter written by the Conway Daily Sun published 7/8/16.
On July 5th, the Ossipee Planning Board voted to seek a second opinion from an engineering firm due to the complexities of the application submitted by SFC Engineering.  Jones and Beach Engineering, Inc of Stratham NH was awarded the bid to review the entire application for a cost of $4,500 to be paid by the applicant.  Planning Board members said the proposed project is so large that the town  needed outside compliance assistance.   Click here to review the Jones and Beach Engineering Inc. report of July 19, 2016
If you have concerns about this expansion please consider writing a letter to the Ossipee Planning Board. Letters may be addressed to : 
Chairman "Ski" Kwiatkowski, Ossipee Planning Board, Ossipee Town Hall PO Box 67, Ossipee, NH 03814.