MONDAY MEMORIES
POST 4, MAY 22, 2017
Hello All,
TODAY:    "Everyone has change lying around their house."
Summer moved on into fall as we continued to meet at different kitchen tables.  By September we were ready for our first organized meeting as Green Mountain Conservation Group with a full agenda.  There were concerns about liquidation logging, land use planning and the continued threat to the aquifer.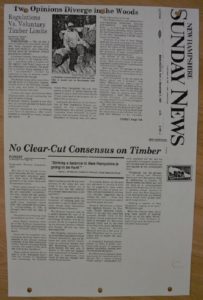 The Society for the Protection of NH Forests, Audubon and The Nature Conservancy also presented a series of workshops on the Ossipee Watershed and some of the unique natural resources that we have.
GMCG's very first meeting agenda and minutes 1997. (Click on the document to enlarge)
At our second meeting, we all were talking about how to incorporate as a 501 c 3. At the time it cost $150 to incorporate and we only had raised $50. Bill Piekut suggested we all go home and look for spare change. "Everyone has change lying around the house," he said.
At the November meeting he showed up with a brown paper bag and inside it was $150 of change. "Go get that 501 c 3," was all he said.
By December 1997 we had filed for our 501 c3 and incorporated as a NH nonprofit.
In celebration of Green Mountain Conservation Group's 20th Birthday (May 1, 1997-May 1 2017) we will be posting Memories on Mondays in May through September on the GMCG Facebook page and on our website www.gmcg.org.  If you would like to be part of this journey please "like" Green Mountain Conservation Group on our Facebook page. We are trying to raise funds for our new home—-The Patricia and Charles Watts Conservation Center also known as the Blue Heron House on the Ossipee River and expansion of staff needed to run our programs. We are doing this online through this campaign by asking you to consider a gift of $20 in honor of our 20th Birthday. Do you have a connection to the Ossipee Watershed? Did you know a former staff person or Board member over the past 20 years who you would like to honor? Can you also invite your own friends and families who have connections to this Watershed or a specific person and ask for a contribution too? Please feel free to forward our posts and information. THANK YOU.
Donations can be made to : CLICK HERE
Each gift of $1000 raised in a specific person's name will honor that person with a plaque on a rocking chair. For example—if you send in a donation of $20 in a staff or previous board member's name, that will be tracked and recorded as a gift to honor that specific person. If you can help by inviting 50 friends to do the same then you will have helped raise $1000 and that person and you will have your name on one of our porch rocking chairs.
Thank you!


GMCG Executive Director
To read the May 1, 2017 post, CLICK HERE
To read the May 8, 2017 post, CLICK HERE
To read the May 15, 2017 post, CLICK HERE